Now that I have resumed full control over this blog…. :) :)
I promised to put up something savory and unbaked in my last recipe post. Well, here is an easy salad recipe that is so-o-o good! It goes with almost any meal, and can be whipped up in just a few minutes. It's a delightful change from the regular vegetable salad and dressing combination. This recipe can be adjusted to your family's needs- these are just the proportions that I use.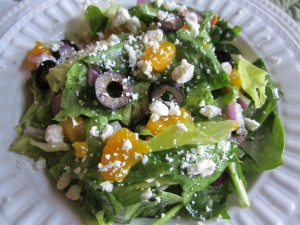 Salad:
8 cups of spinach, romaine lettuce, or a combination of the two
1 15-oz can of mandarin oranges, sliced
1 6-oz can of black olives
1/2 red onion, diced
Dressing:
1/4 cup olive oil
4 teaspoons balsamic vinegar
1 1/2 teaspoons dijon mustard
1/4 teaspoon salt
1/4 teaspoon pepper
1/4 cup feta cheese, crumbled
In a large salad bowl, combine salad, mandarin oranges, olives, and onion. In a small bowl, whisk together the dressing ingredients. Just before serving, add dressing mixture to salad and toss to combine. Sprinkle feta cheese on top, and serve. Enjoy!