Hello everyone! Tonight is Friday night pizza night! :) Now pizza can be a tricky thing. It's sometimes hard to make, or just plain time consuming. I have recently learned how to make a simple, yet delicious pizza from ingredients that we always have on hand.
Now our pizza journey has been an interesting one. We first started making homemade pizzas only a few years ago. Before that it was freezer pizza or Papa Murphy's (and that was pretty rare, as we tried to eat healthier). Then we began by trying several homemade crust recipes. None of them turned out too well. Then I started using our bread dough for pizza. That was OK, but still not very good. Then I tried a half&half recipe (in our home, that means half white, half whole wheat flour). :) After tweaking the recipe a bit, this has become one of our favorite recipes! Here are some step-by-step photos on how to make it, and I'll include a printer friendly version of the recipe at the end.
Please note that here I'm just making ONE kind of pizza – the possibilities for sauce, cheeses, toppings are endless. This is the basic structure – so go ahead and experiment to find out what your family likes! Here I'm just making the classic red sauce/mozzarella cheese/meat pizza. Simply adjust the topping amounts to what your family likes! I usually start the pizza around 3:45 or so in the afternoon to ensure that it's done by dinnertime at 6:00. We like to serve this with mandarin orange salad or cauliflower salad (I will post this recipe soon!).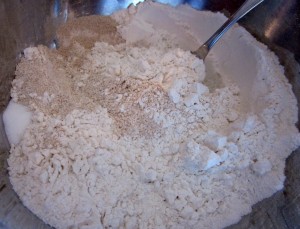 Start by getting out a medium bowl, and stir together white flour, freshly ground whole wheat flour, yeast, and salt.
Add in some oil and water (make sure water is lukewarm or room temp.)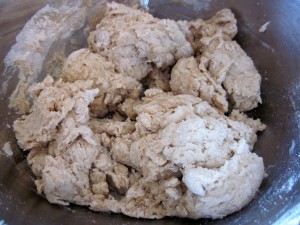 Stir this together with a fork until it looks like this.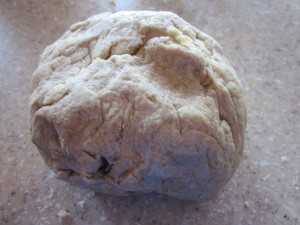 Turn out onto the counter and form the dough into a ball.
Knead with your hands for 7 – 10 minutes, until the dough is no longer sticky, but elastic and smooth.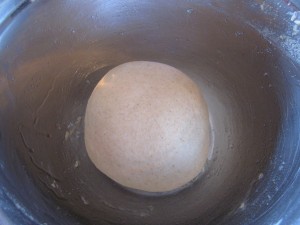 Plop it into an oiled bowl (I just use the same one to cut back on dishes! :D)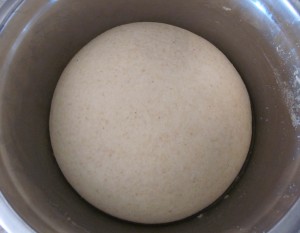 Cover with a towel and let it rise for about 30 minutes.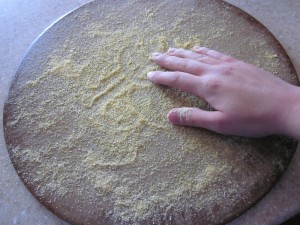 Then lightly spray a pizza stone and generously spread it with cornmeal.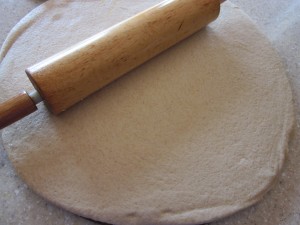 Roll out the dough and let it rise for another 30 minutes.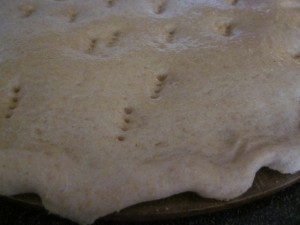 Prick some holes in the top and bake it for 5 minutes at 475. The secret to a tender pizza crust is exposure to high heat for a small amount of time.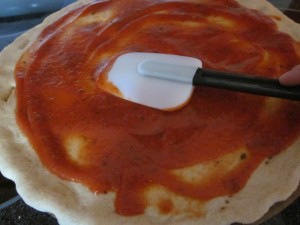 Then spread it with the pizza sauce….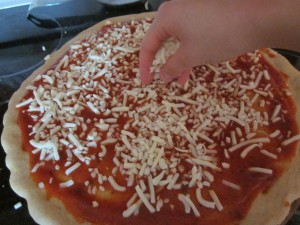 …cheese…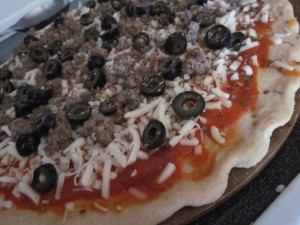 …and your choice of toppings, along with some spices. I use basil, oregano, and red pepper. Topping your pizza with spices makes a huge difference!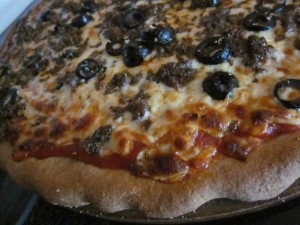 Bake this for 15 more minutes at 475.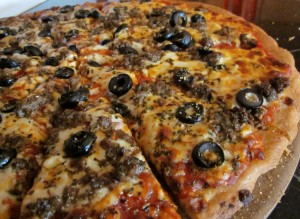 Cut into slices…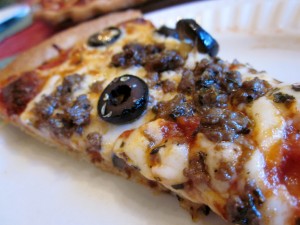 …and serve! So there you have it! :)
Ingredients for dough:
2 teaspoons instant dry yeast
1 ½ cups all-purpose flour
1 ½ cups freshly ground whole wheat flour
1 /2 teaspoon salt
1 teaspoon sugar
¼ cup olive oil
1 cup lukewarm water
Toppings:
Red sauce, white sauce, or pesto
Cheese (mozzarella, Parmesan, cheddar, etc.)
Meat (sausage, seasoned beef, pepperoni, Canadian bacon, etc.)
Vegetables (peppers, olives, mushrooms, onions, etc.)
Herbs and spices (I use basil, oregano, and a tiny bit of red pepper)
In a medium bowl, stir together the yeast, flours, salt, and sugar. Add the oil and water; stir with a fork until the dough clumps together. Turn out onto lightly floured counter. Knead for 7 – 10 minutes, or until the dough is soft and elastic, but not sticky. Place in an oiled bowl, and let rise for 30 – 45 minutes. Lightly mist a pizza stone with cooking spray, and generously sprinkle with cornmeal. Roll dough over stone, leaving a slight lip. Let rise for 30 more minutes. Meanwhile, move oven rack to lowest position, preheat oven to 475 degrees, and prepare toppings.
Prick holes in dough (and crimp edges, if necessary) and bake for 5 minutes at 475 degrees. Take out, and spray crust with oil (this will prevent a soggy crust). Layer the toppings, in order, as desired. Adjust proportions to desired amount. Sprinkle herbs/spices on top.
Bake for 12 – 15 more minutes at 475. Let cool for a few minutes, and then cut into slices. Enjoy!
So what about you all? What are some family recipes that have become staples in your home? Do you have any pizza techniques that you've picked up along the way? I'm always glad for kitchen advice! :) 
Link of the day: Quick and Easy Tomato Sauce. Try using this as a great, thrifty alternative to pizza sauce!