Hello everyone! Well, it's taken me a few days to put this together, but here I've posted a few pictures from last weekend.
On Friday, my Uncle Jim, Aunt Kathy, and cousin Anna came down to visit us for a bit. They brought their sailboats for us to enjoy the next day.
Mom and Austin both had triathlons, so the Nobles were here for both, and helped us cheer them on! Austin's triathlon was on Friday night. It was a kid's triathlon – shorter than Mom's – but still, it was quite a distance! Austin had a blast, and did very well.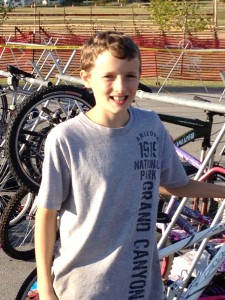 At the bike triathlon before the start.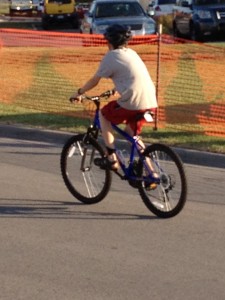 Austin got off to a great start in the pool, and here he is zooming away on the second part of a triathlon – the bike.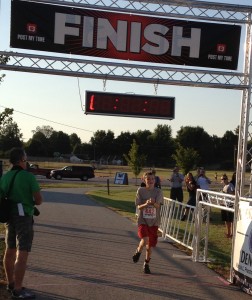 And at the finish line!!! He did the run at a 7:41 minutes-per-mile pace. We were super proud of him!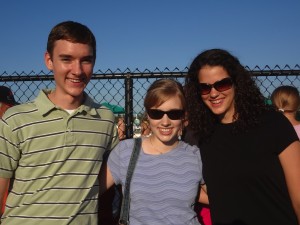 Hanging out at the race start with Wesley and Anna. :)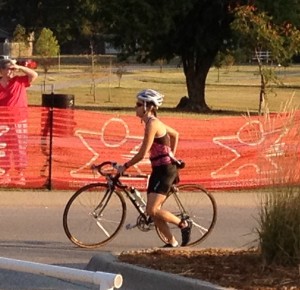 The next morning, Mom had her triathlon. It was a sprint distance, but don't let that name fool you – a sprint distance triathlon is an approximately 0.47 mi swim,12 mi bike, and 3.1 mile run. It was similar to the one she had in Joplin earlier this summer.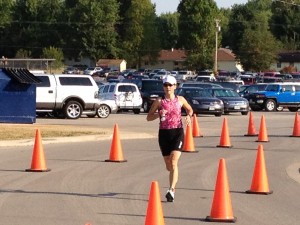 Mom did very well, setting person records. Here she is nearing the finish! :)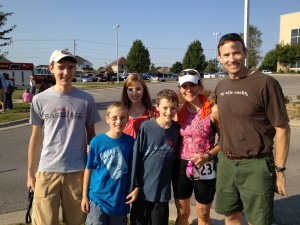 Way to go, Mom! We're all so proud of you!!!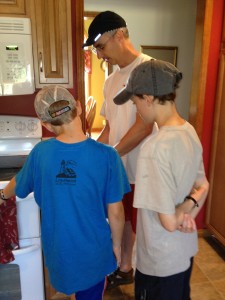 After Mom's tri, we came home and prepared to set out on our sailing outing. Our Uncle Jim has lots of experience with sailing, and he gave Austin and Jonathan a lesson on the parts of a sailboat before leaving.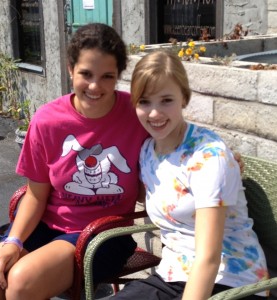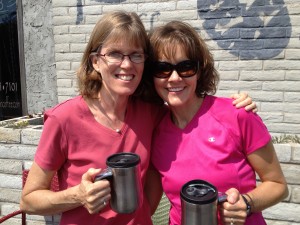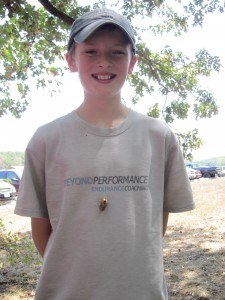 Before unloading the sailboats, we enjoyed a picnic together. Here's Austin and his little "friend" he found.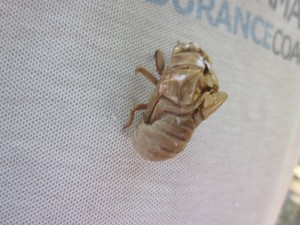 He tried scaring Mom with it. It didn't work.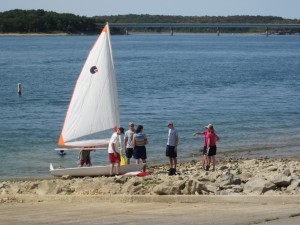 OK, now here's one of the sailboats I mentioned before. Anna and I went out on this one, while the others sailed out on a larger sailboat (of which I did not get a picture). I did not bring my camera on board, but Mom got a few pictures from the shore!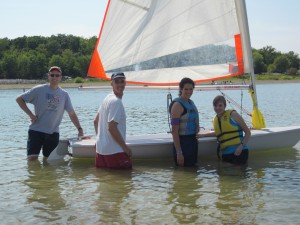 Daddy and Uncle Jim helped to get us started in the water. :)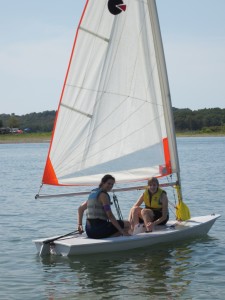 And taking off! I must say that despite there not being much wind, it was a great first experience with sailing, and I enjoyed our time out on the lake very much. Anna steered our little craft like an expert. Thank you for the lovely ride, girlie! :)
We ended up sailing for a few hours, and jumping into the lake several times to cool off.
 Well, that's all for today! Thank you so much, Nobles, for coming down! It was wonderful to spend time with you!