After spending time with my Dad's side of the family, we drove up to Wisconsin to see my Mom's side of the family. As we drove north, I could feel the difference in temperature as it got cooler and cooler. It was great to see our family! Here's some pictures of our time together: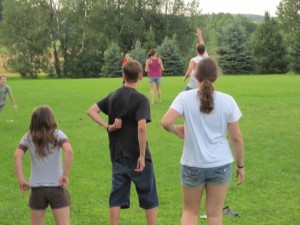 All of the cousins played a game of kickball together.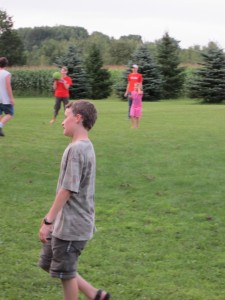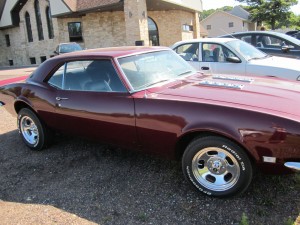 My Uncle took my brothers and I for a ride in his 1968 car. At 50 mph, it felt like we were flying down the road because it was so low!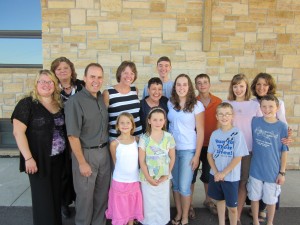 Everyone together (minus my Dad because he took the picture!).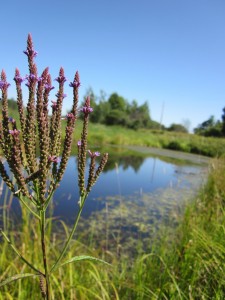 We then drove to my Grandma's cabin way up in Northern Wisconsin. The drive was beautiful, and it was very interesting to me how the view changed from Iowa to Wisconsin:
This just about summarizes what the roadside looked like from Wisconsin and up!
At Grandma's cabin, I had lots of time to take pictures. The cabin is in the woods right on the edge of a beautiful lake.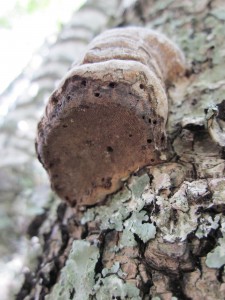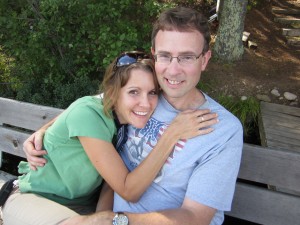 Mom and Daddy sitting on the dock, enjoying the lake.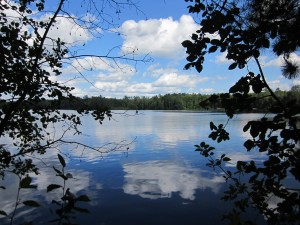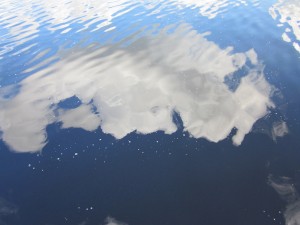 I love the reflection of clouds on the water!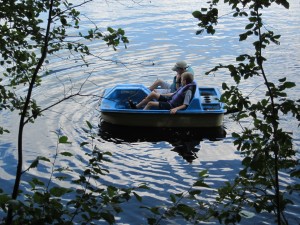 Austin and Jonathon enjoyed paddling out on the lake with the paddle boat.
Our Noble men out on the dock.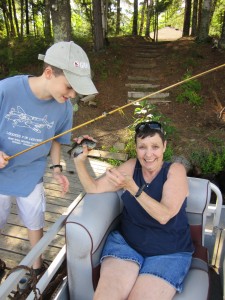 Austin showing Grandma the fish that he caught.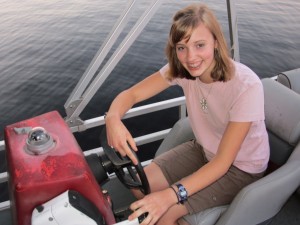 Pretending to drive Grandma's big boat- the still water in the backround gives me away! :-) I did drive it later on, though!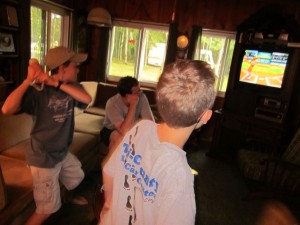 That night, we all played my Grandma's Wii. Two of our favorite games are baseball and cow racing!
One of Grandma's dogs…does this look comfortable?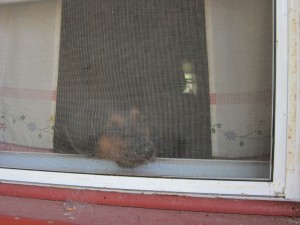 Here's the front view. I thought this was funny to see his little head poking out between the curtains. :-)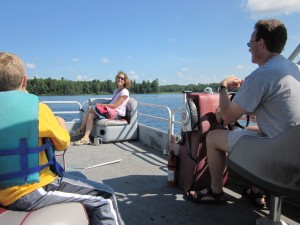 We went on a boat ride the next morning. It was a lovely day out!
Here's a picture to show just how pleasant the day was! Yes, it was a glorious 63 degrees outside at about 8:30 in the morning!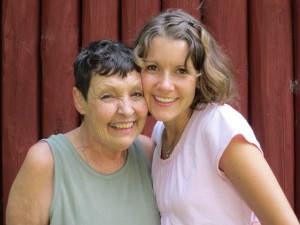 And for my last picture for today, here's Grandma and my Mom together. We had a wonderful time at Grandma's cabin!