Hello there! It's a gorgeous snowy day here in southern Missouri. Hard to believe that just two days ago I was running around outside in the warm, sunny weather with my brothers in shorts, a T-shirt, and bare feet. Now we have several inches of snow. There's Missouri weather for you, folks! Yesterday was my last day of classes for the semester! Only finals ahead of me now, which I will be studying for over the weekend. Being done with the semester is bittersweet, which I'll be writing about in a future post.
Now there is a certain Noble tradition which states that all students (including college ones) may take the day off school on the first day of snow. Hence, all of us Noble kids have enjoyed a morning of sledding and doughnut-making. I am continuing my relaxing activities by a bit of afternoon blogging.
I have some pictures to post from our Thanksgiving. And what a lovely Thanksgiving it was! It was so good to see everyone and spend time in fellowship together. Family activities included playing telephone pictionary, foosball tournaments, watching funny videos, walks, outdoor "soccer" with a BOSU ball, conversations, and – of course – enjoying several meals together.


Wesley took these 2 panoramas from the Thanksgiving meal.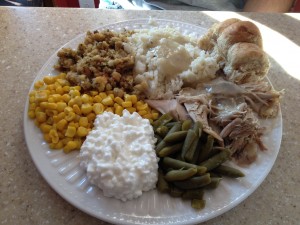 Everyone brought dishes to contribute to the feast!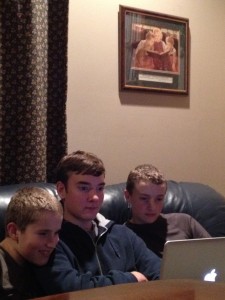 Doing techie stuff.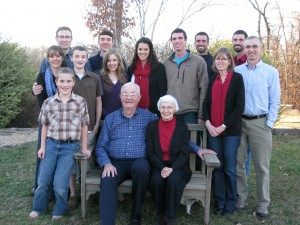 Family picture!
One of our Thanksgiving traditions is for each person to write down a list of things they are thankful for after dinner and read them aloud over pie. It was such a cup-filling time as we praised God for all He has done and is doing for us.
My 18th birthday happened to be the day after Thanksgiving. Yet another Noble tradition (yes, we have lots of traditions) is that on the eve of a Noble's 18th birthday, all the teens and young adults dress up in goofy, silly costumes and go out to McDonald's to buy the Birthday Girl or Boy a happy meal to eat in his last few minutes as a kid. Strange, but true. And SO fun, might I add.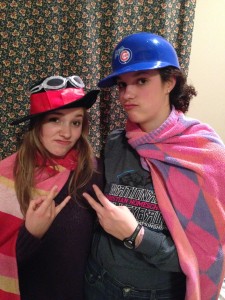 Wacky beach towel capes and goofy headwear are a must!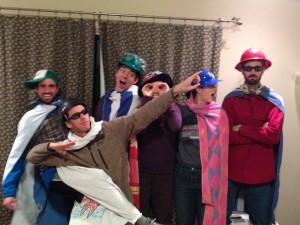 And goofy pictures….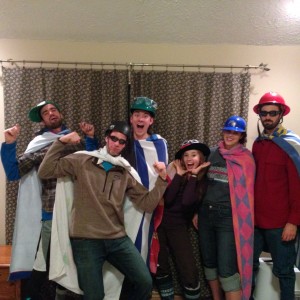 The six of us tramping into McDonald's was a hilarious sight, as you can imagine. As we walked in, we saw one of the manager eye us, start laughing, and mumble to himself, "now I've seen it all."              *Fun times.*
 The next morning everyone was able to stay for brunch. Since Anna's and my birthdays are so close together, we usually get to celebrate them together.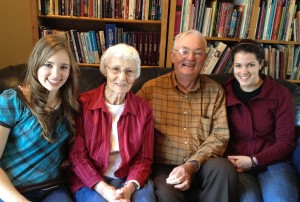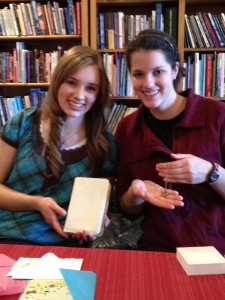 Grandmother gave us girls each special heirlooms from her childhood. I was SO completely surprised and delighted when I received a Bible that was hers since she was a teen. She carried it in her wedding and Mom carried it in hers. I will treasure it always.
Well, it's getting dark…and it's time to start some dinner. Thank you for stopping by! What did you do for Thanksgiving?