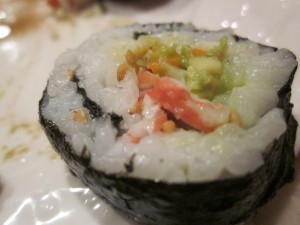 Hello there! Have you ever made and eaten sushi before? I think everyone should try it at least once. I was intimidated to make it for so long because (1) it seemed complicated and time-consuming to make, (2) the ingredients were impossible to buy at Walmart, and (3) it really didn't sound all that appetizing (raw fish wrapped in seaweed? Hmm.).
Well, it turns out every one of my assumptions were wrong! At least from the way we made it. :) Wesley is definitely the most adventurous of us all when it comes to food, so when he found out that one of our friends knows how to make sushi, he arranged a sushi-making party! It turned out to be a fun and memorable night. I enjoyed it so much, so I thought I'd share with y'all how we made if you would like to try it, too.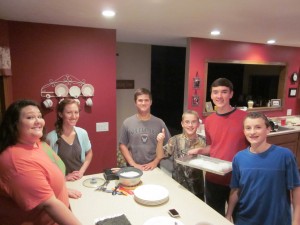 All the sushi-makers!
Here's what you need:
nori -seaweed- sheets (you can usually find these in the Asian section at Walmart)
jasmine rice, cooked according to package directions and sprinkled with rice wine vinegar
sesame seeds
cream cheese, cold and cut into thin strips
avocado, mashed
cucumber, cut into long strips
carrots, cut into long strips
crab meat (we used Trans-Ocean Crab Classic Flake Style Imitation Crab from Walmart)
soy sauce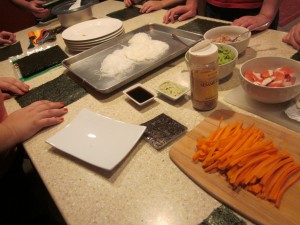 And here's what to do: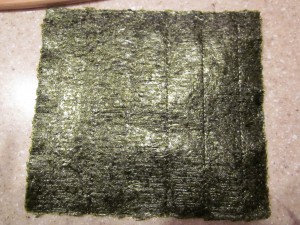 Take a nori sheet and place it on a clean surface (we just made our directly on our counter). Nori sheets have two sides. One side is shinier than the other and the shinier side should face down, with the "rougher" side facing up. The rough side helps to absorb the moisture of the rice.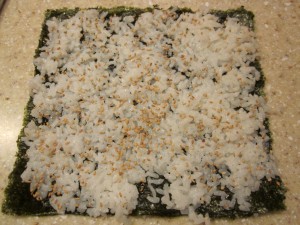 Spread with a thin(ish) layer of rice and sprinkle with sesame seeds.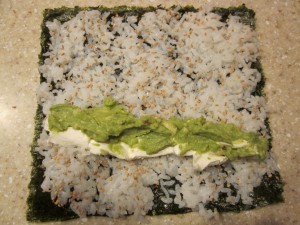 Add cream cheese and mashed avocado in a strip toward one end of the nori sheet like this.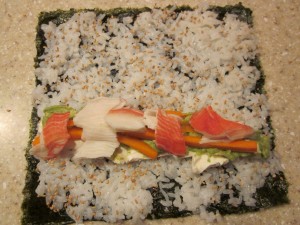 Add crab meat, carrots, and cucumber.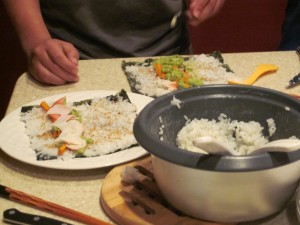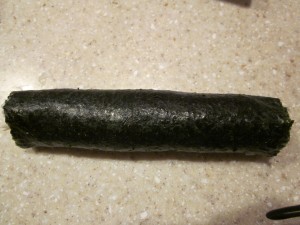 Carefully roll up into a tight log. You can use a bit of water along the crack to help seal the roll.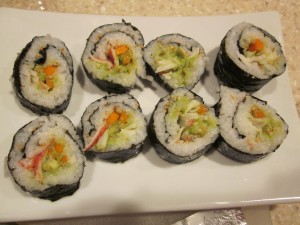 Use a sharp knife (I like serrated ones) to cut the log into sections. Some nori sheets have perforated lines you can use to cut along. Arrange on a platter.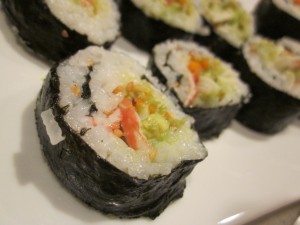 (Aren't they pretty!?)
Now I must add here that there were some major perfectionists in our group and some, ahem, major non-perfectionists in our group who shall remain anonymous. :)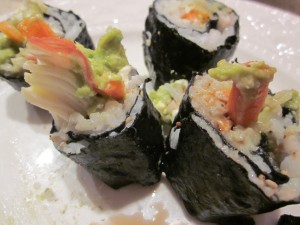 Well, okay, I'll just say that these were mine. Hehe. But my next ones looked better after I used a serrated knife!
Sushi are not only tasty little morsels, but also very filling! We made enough for everyone to eat about 1 1/2 rolls, which was plenty. We used shallow dishes of soy sauce for dipping. Yum! Soooo tasty. Here are a few more pictures.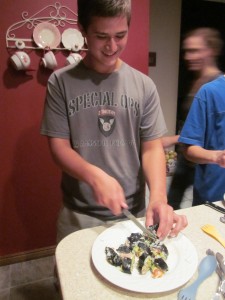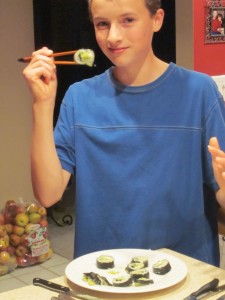 Austin mastered the art of chopsticks.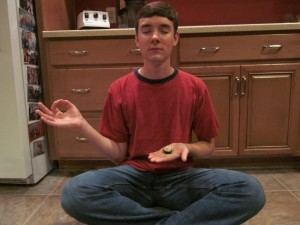 And Wesley pretending to be in "deep meditation" before eating the very last piece of sushi. Silly guy! :D
So thus ends our sushi-making adventures. We have since made it again and I am sure we will make it in the future. There are so many different ways to make sushi…do you have any experience with sushi and what do you put on yours?