Whew! We had a very fun and busy Thursday, Friday, and Saturday last week! Austin and I are doing competitive speech this year, and we just had our first tournament for the year. It went very well! We each did two events (a memorized speech and interpretation-each about ten minutes long).
Austin's  speech was about the history of flight. He also did a humorous interpretation – an exerpt from the Derwood Inc. series. It was about a big brother telling his little siblings a story about a fifty-ton, mile long, giant octopus. It's so funny! Austin did such a great job with it – I still laugh every single time I watch him perform it.
My speech was about the problem of being overweight in America, the unsuccessful attempts of Americans to solve this problem, and the solution to long-term weight loss success. My interpretation was an excerpt from Anne of Green Gables (the part where Rachel Lynde critisizes Anne for her red hair, Anne flies into a temper, and then she apologizes to Rachel Lynde). I had great fun with that one. :)
This year, there were a lot of kids in the tournament – around 200 or so. Our days lasted from 7:30 a.m. to 5 or 6 at night. We got up, got dressed (the dress code is very formal), and drove to the huge church where it was held. During the first two days, each person performed his events three times each for different judges. On Saturday, if he broke to semi-finals and/or finals, he would perform them again. When we weren't performing, we watched other events, time-kept for debates, did school, and enjoyed making new friends. Here are some of our highlights: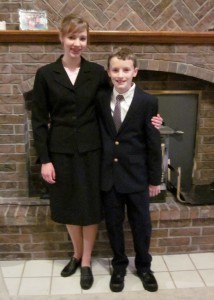 All dressed up and ready to go. Austin looked super snappy in his suit jacket! :)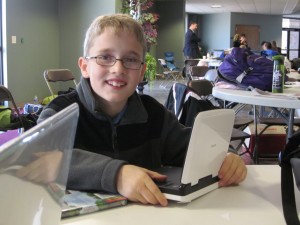 Jonathan patiently and cheerfully hung out during the entire tournament. He brought along the movie player for some of the time! :)
I made several new friends, including a sweet young lady from California.
All of our rounds went very well. Austin and I both broke to semi-finals in all four of our events! I broke to finals as well, and I placed 5th with my speech and 2nd with my interpretation.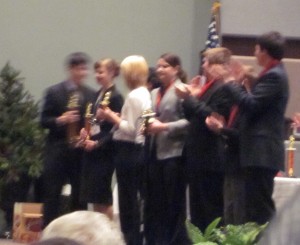 Although this turned out super blurry, this is during the awards ceremony, when I received a trophy for my interpretation. The top eight finalists all received awards, and I'm second from the left.
So at the end, we were pretty tired and my feet were sore from walking around in heels for three days :), but Austin and I had a great time. Though we both battled nerves several times, we enjoyed it immensely. Wesley also came to watch the events and help.
Thank you, Mom, Daddy, and Wesley, for the time you took to watch and help me with my speeches. Thank you, Jonathan and Austin, for your support as well.                                                   And to God be all the glory, because He gives us the grace and ability to do this in the first place!