Today's post is a delicious recipe. A recipe that uses up leftover tomatoes from your garden. Or you can just buy extra tomatoes if you want to make your own fresh tomato sauce!
To start, you'll need a powerful blender (I use our Vitamix) and about 6 medium tomatoes.           I used 7 or 8. :)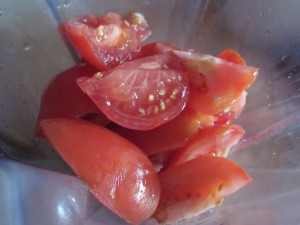 Wash the tomatoes, cut them into quarters, and dump them into your blender.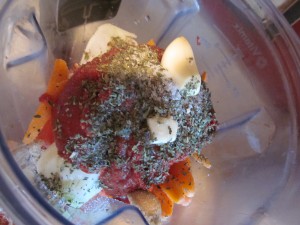 Add the following ingredients on top:
1 small onion, peeled and halved
1 small carrot, halved
2 tablespoons or more of tomato paste  (I used the whole can because they're pretty small)
1 garlic clove, peeled
1/2 teaspoon dried basil
1/2 teaspoon dried oregano
1/2 teaspoon fresh lemon juice
1/2 teaspoon brown sugar
1/4 teaspoon salt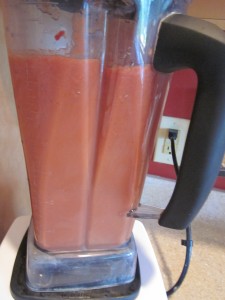 Blend on high for 2-3 minutes, using the tamper (if you have one) to press the ingredients into the blades. When done, the consistency will be a bit weird, but don't worry. I promise it will turn out! Whatever you do, DON'T stop now. It would taste terrible uncooked. :)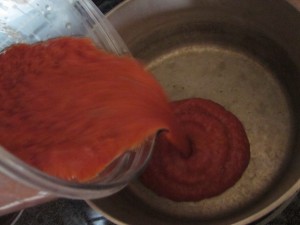 Pour mixture into a saucepan.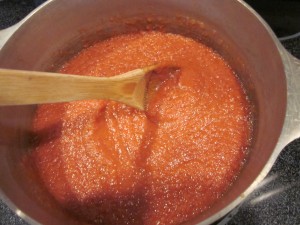 Simmer for 35-40 minutes. I usually stir in a bit more dried basil for color. You can use this in any recipe calling for tomato sauce. Or serve over cooked pasta for a quick meal! Enjoy! :)
Have an abundance of zucchini? Try this amazing recipe. I've made this healthy cake at least half a dozen times this summer, and we never get tired of it! :) Happy Monday!