I am blessed with three growing brothers who love to eat. Mom and I have fun concocting dense, tasty snacks to keep them satisfied between meals. One day, I needed to come up with a snack for Austin. He had politely requested some sort of  bar that was filling, slightly sweet, healthy(!!!!), soft, and topped with dark chocolate. I was excited to remember a recipe that my friend Heidi had posted on her lovely blog a while ago. It seemed to fit the bill perfectly, so I made them that afternoon. These bars completely exceeded my expectations and I couldn't wait to share them with you! Heidi graciously gave me permission to re-post the recipe on my blog. :)
What I love so much about this recipe is its flexibility and how much room for variation there is without compromising the taste one bit. Do you have older dried fruit in your pantry or baggies of nuts from leftover trail mix that need to be used up? Use them to whip up this delicious recipe. I have used combinations of dried apricots, pineapple, raisins, cranberries, apples, dates, walnuts, pecans, and almonds so far and have been very pleased with the results. Using peanuts or peanut butter would taste also great, but I don't use them due to allergies.
This is a power bar at its best, folks! Tuck one in your backpack for a midday snack, eat a few for a meal on-the-go, or even try one for dessert! They're just that good. :)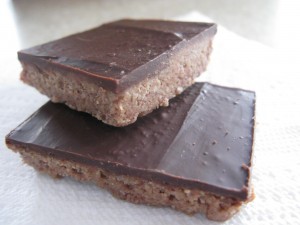 Nourishing Protein Bars
3 cups nuts, any kind
1 cup dried fruit, any kind
1 cup shredded coconut (we use unsweetened)
3/4 cup coconut oil, melted
2 Tablespoons honey
2 teaspoons vanilla
1/2 teaspoon salt
1/2 cup ground flax seed
1/2 cup nut butter, any kind
3/4 cup chocolate chips (we like dark chocolate)
Grind nuts in your blender until finely chopped. I grind them in a single batch in our VitaMix, but if you have a different blender, you may want to process them in several batches. Transfer to mixing bowl.
Put dried fruit and coconut in blender. Add the honey, vanilla and salt on top of that. Add the melted coconut oil last and blend until it's a thick paste (I use the tamper to press the ingredients into the blades).
Add this fruity mixture to the nuts. Add the ground flaxseed and nut butter. Mix well. Spread into 9 x 13″ pan. (or 10 x 15″ if you want thinner bars). Melt the chocolate chips and smooth over the bars. Chill until firm, at least one hour. Cut into small squares, as they are very rich. Store in the freezer or refrigerator. Enjoy!