After packing up and leaving Grand Marais, we started traveling southward. We stopped at one point along Lake Superior to enjoy it once more until we return Lord willing: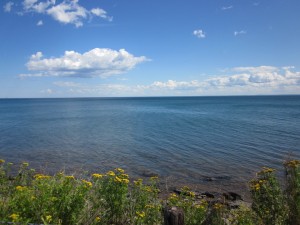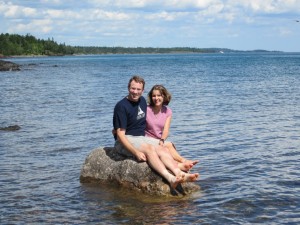 Mom and Daddy wadded out to a rock near the shore.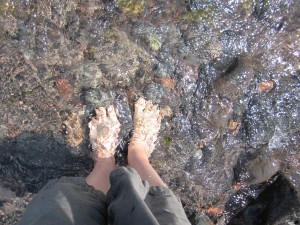 Enjoying the clear, frigid water.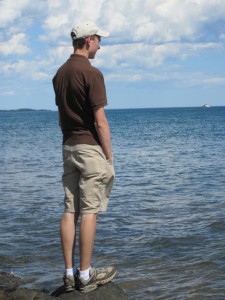 Wesley
But our trip was not over. Oh no-the last part of our vacation was spent very pleasantly with some dear friends of ours, the Armours. We met their family about 5 years ago when we lived in Wisconsin, and have been very good friends ever since. It was wonderful to stop by on our way home and visit them for a few days (although it all went by way too quickly!).  I got several neat pictures of our time with them: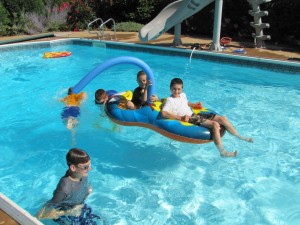 Playing in the Armour's pool.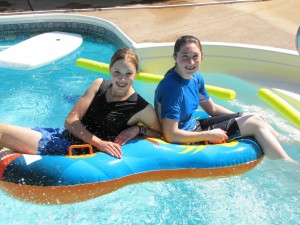 Hannah and I took possession of a floaty for a while, although it was highly coveted, and was sabotaged more than once! :-)
All of us kids lined up along the pool's edge.
We enjoyed a group game of Catch Phrase one night.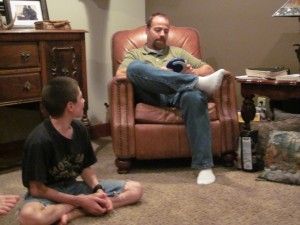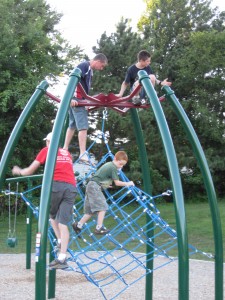 We also walked to a park close-by the Armour's house and played Ultimate Frisbee. Here the guys are climbing an interesting "spider web" contraption.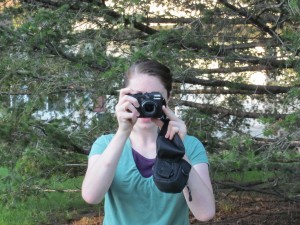 Hannah with her camera. :-)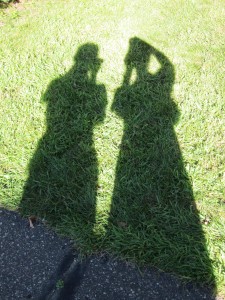 And the two of us taking a picture of our shadows!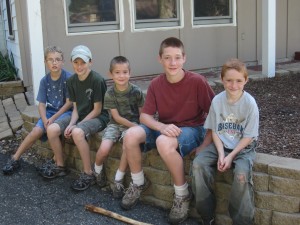 Some of our brothers outside before a game of capture the flag.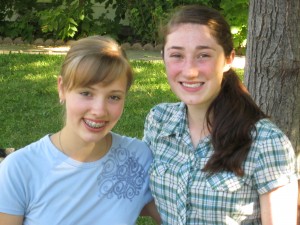 Hannah and I.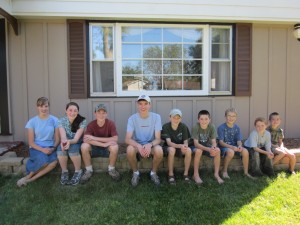 A nice group photo…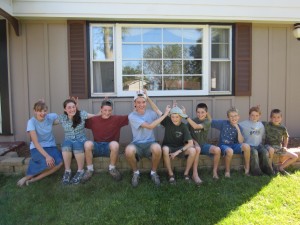 …and of course we needed a silly one too!
We all had a wonderful time visiting the Armours. Thank you so much, Armour family, for your hospitality!
OK. Just one more picture that I have to add. Somewhere during the length of our vacation, we obtained a pair of glow-stick glasses. Apparently only one side of them actually glowed, but on the way home I got a picture of one of my family members wearing these "goggle glasses". Here it is:
Now here's the challenge: please try to guess who this person is (remember it's someone in my family). The first one to guess correctly is the winner!
And thus concludes our "vacation up north". It was all so wonderful to spend time with extended family, dear friends, and spend time together as a family. It was definitely one of my highlights for 2011!