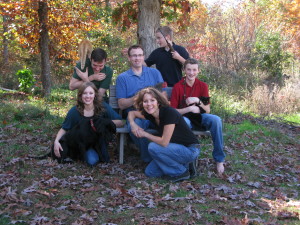 This is a hard post to write.
It is time to share with y'all some bittersweet news from the Noble family.
As my daddy says, "it's always a good time to trust God." And now is no exception. In fact, we are all clinging to the faithfulness of God in this season as we ascertain His will for us.
5 years and 2 months ago, we moved to a beautiful place in the country near Springfield, Missouri. My dad is one of the most godly, unselfish, humble men that I know and he sacrificed his career to move our family to a this area, believing it was the best for our family. And indeed it was.
Our family blossomed and grew in grace those next 5 years. Of course, we had our share of difficulties like every family does, but that season was truly blessed. My older brother and I experienced much of our transition to adulthood in those short years. Age 13 to 19 is a critical time in a girl's life and I am so very grateful for the opportunities and direction God has given to me.
Over the past 6 months or so, there have been rumblings of job opportunities for my dad in St. Paul, Minnesota (where we moved from originally). Recently, a job that would entail amazing opportunities for my dad opened up and he was accepted for the position. We are thrilled about what that will look like for him and cannot wait to see his many strengths put to use in this new job. He has waited patiently on the Lord and has been faithful to lead and provide for our family even in a very difficult job here.
However, that does mean big change for our family. We – or part of our family – will be moving. As the reality of it sunk in, I realized something about myself that I didn't see before. I have come to almost "idolize" our life here and have clung too closely to our family circumstances that I saw as so perfect. I dreamed of us living our whole lives here and my thoughts would run away with me as I planned our future here forever. I was reminded again that this is not our home. Indeed, God has given us a beautiful "lodging place" here in Missouri, but it is time to move on and life as we know it will change.
I mentioned that only part of our family will be moving right away. With our parent's blessing and encouragement, Wesley and I will be staying here for at least a year. I plan to finish up nursing school and Wesley will continue working full-time in Springfield while finishing his college education. He will rent an apartment with a friend and I will stay with some dear friends of ours who so generously invited me to their home. I feel much relief and peace about that.
So. Our hearts are full and the last few weeks have been very stressful. My parents are juggling a million and one details and the reality continues to sink in for us all. Honestly, this move has brought out the ugliness in my own heart as I battle anxiety and doubt. It's easier to be pleasant when things are peachy, but when times get tough, I am once again humbled and realize that I have so much to learn. Though they're hard, there is grace in times like these because as my sin is exposed, I am brought to the humbling realization of the condition of my heart and my desperate need for a Savior.
It's time to bring this post to a close, but I do want to say that though the future is uncertain, we know WHO holds it ALL the time. I truly believe that God has a purpose in leading us here and He has blessed us abundantly in this season. But I need to trust that the MOST blessed place to be is not in my "ideal situation," but rather in the very center of God's will.
I will leave you with the words to a little song I wrote while fiddling around on the piano. :)
How wonderful, how marvelous,
is your wondrous love for me!
I could not pay the debt I owed,
but your grace has set me free!
I am humbled by your goodness, Lord
stood in stains so dark and deep,
but I know that you have washed me clean,
and my soul forever keep.
In my Father's hand I will always dwell
where His grace and mercy flow,
there I find a constant security
though winds and storms may blow.
How wonderful, how marvelous,
is your wondrous love for me!
I could not pay the debt I owed,
but your grace has set me free!