Happy Tuesday! Today I have a drink to share with you: green tea "lemonade". It is a wonderful alternative to sodas and sugar-laden sweet tea. I like to bring it to school in my backpack and enjoy it for a refreshing afternoon drink.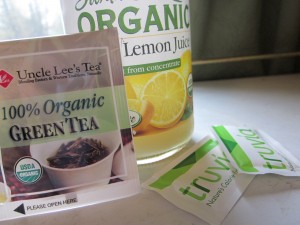 You'll need:
1 cup boiling water
1 bag of green tea (preferably organic)
2 packets stevia or 1/4 – 1/2 teaspoon powdered stevia or 10 – 12 drops liquid stevia
1 – 2 tablespoons (a large splash) of lemon juice
In a small glass bowl pour boiling water over teabag and let steep for 6-10 minutes. Press tea bag to extract as much flavor as possible and discard. Add the stevia and lemon juice, stirring well. Add a few ice cubes to cool the mixture.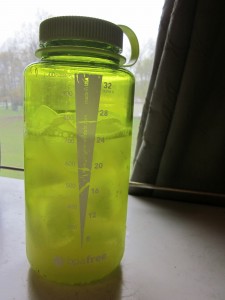 In a glass or a large water bottle (I use a 32-oz Nalgene), fill about halfway with ice cubes. The more ice you use, the longer it will stay cold. Pour tea in bottle or glass and shake or stir several time until thoroughly mixed, ice cold, and a bit frothy. Enjoy!