This morning I was in a baking mood. Whenever I'm in a baking mood, I usually make cookies. So that's precisely what I did during a break in school. I want to share the recipe with you because it turned out so well. These cookies are delicious, and actually quite healthy. Please don't be scared (like I was) to substitute coconut oil for the butter- it worked out well! I was also able to cut back on the sugar without sacrificing their sweet taste. The added spices absolutely make these cookies, and so do the butterscotch chips! These are perfect to whip up when you're in a "baking mood" or when you need something nice to compliment your cup of tea on a chilly afternoon!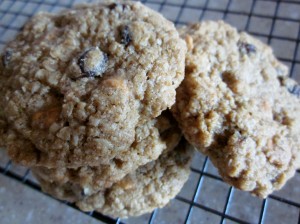 Note: this is my very poor attempt to photograph these cookies. Unfortunately, Wesley wasn't around to help me this time. Trust me, they look better in real life! :)
Ingredients:
1 cup coconut oil (in it's softened stage) or 2 sticks of softened butter
1 cup firmly packed brown sugar
2 large eggs
1 teaspoon vanilla
1 1/2 cups  whole wheat flour
1 teaspoon baking soda
1/2 teaspoon salt
1 rounded teaspoon cinnamon
1/2 teaspoon ground allspice
1/4 teaspoon ground cloves
3 cups dry quick cooking or rolled oats
1 cup raisins
1 package butterscotch chips
Preheat oven to 350 degrees. Beat together the coconut oil/butter and brown sugar until creamy. Add the eggs and vanilla and beat well. In a separate bowl, sift together the flour, baking soda, salt, and spices. Add the dry ingredients to the creamed mixture; mix well. Stir in the oats. Add the raisins and butterscotch chips and mix well. Form rounded tablespoons of dough and drop onto ungreased cookie sheets. Bake at 350 degrees for about 9 minutes (or longer if you like crispy cookies). Let cool about a minute on cookie sheet and then transfer to wire rack. Makes about  4 1/2 dozen cookies. Enjoy with a glass of milk or a cup of your favorite hot tea!