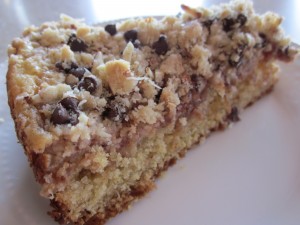 This coffee cake is a lovely, elegant treat for breakfast, brunch, or tea. When Mom and I tasted it at a party several years ago, we simply had to get the recipe. I have since made it many times and passed on the recipe to others. If you are hosting a gathering or would like to surprise your family one morning, try making this delicious cake.
There is plenty of room for variation with this cake. You can use any type of jam or preserves for the filling – try peach, blueberry, raspberry, cherry, or strawberry. Sometimes I like to add a few mini chocolate chips to the topping if it pairs well with the type of jam (raspberry or cherry is good). You could also use any type of nuts, such as chopped pecans, walnuts, or almonds. One of my favorite combinations is chocolate-cherry-pecan, but feel free to experiment!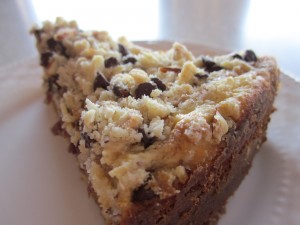 Ingredients:
2 ¼ cups flour (I use a combination of unbleached all-purpose and whole wheat)
½ cup sugar
½ cup cold butter, cut into small peices
3 Tablespoons olive oil
½ teaspoon baking powder
½ teaspoon baking soda
¼ teaspoon salt
¾ cup yogurt
1 teaspoon almond extract
1 egg
1 8-oz package cream cheese, softened
¼ cup sugar
1 egg
½ to 1 cup preserves or jam, any flavor
½ cup chopped nuts
¼ cup mini chocolate chips (optional)
~Preheat oven to 350 degrees. Grease and flour the bottom and sides of a 9 or 10 inch sprinform pan. In a large bowl, combine flour and ½ cup sugar. Add the butter and olive oil and mix with your hands or a fork until mixture resembles course crumbs. Reserve 1 cup crumbs.
~To remaining crumb mixture add baking powder, baking soda, salt, yogurt, almond extract, and 1 egg. Blend well and spread mixture in the bottom of prepared pan.
~In a small bowl, combine cream cheese, ¼ cup sugar, and 1 egg. Pour into batter-lined pan. Carefully spoon preserves or jam evenly over cream cheese mixture.
~In a small bowl, combine reserved crumb mixture, chopped nuts and optional chocolate chips. Sprinkle over preserves.
~Bake for 350 degrees for 45-55 minutes or until cream cheese filling is set and crust is deep golden brown. Remove sides from pan and let cool. Cut into 12-16 wedges to serve. Enjoy!