Two days ago I went downstairs to find a massive fort made out of blankets, furniture, couch coushins, sleeping bags, and just about everything else in the room. Austin and Jonathan had spent the morning constructing it. I realized that they had been down there an awfully long time! They gave me a tour of their fort, and asked me to take some pictures of it. :)
So I came downstairs and saw this: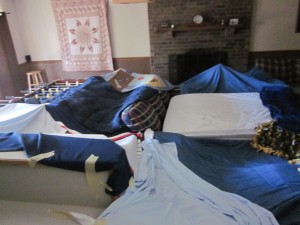 Oh my – just looking at the outside made me want to explore it! And with the owners' permission, I did. :)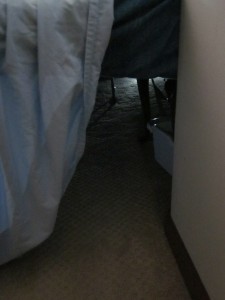 The entrance.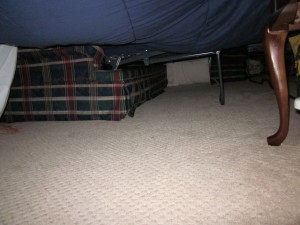 The entry room.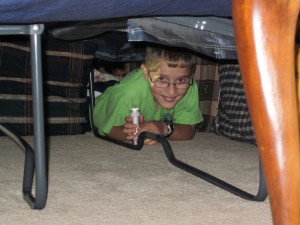 Jonny-B
Austin and Jonathan named this room the "visitor's center". It was the largest part, and most visitor-friendly!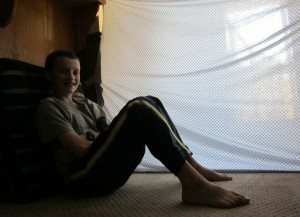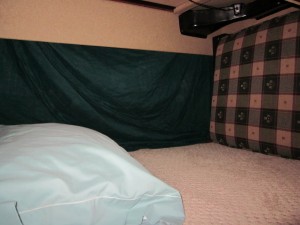 One of the nooks under our foosball table.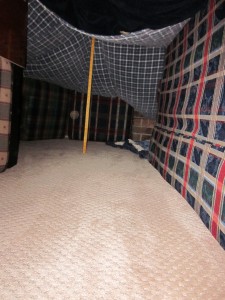 One of the hallways…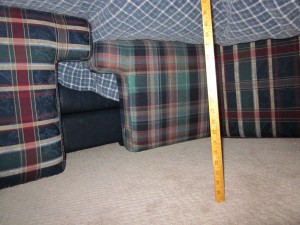 …which led to a meeting room…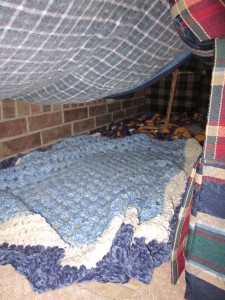 …which led to a secret passageway.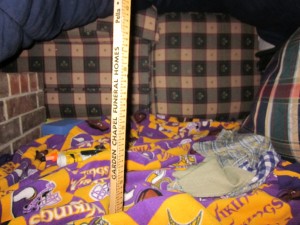 The boys named this "the room of refuge", as it's hard to find and get to. It was made in case of an attack from older siblings. :)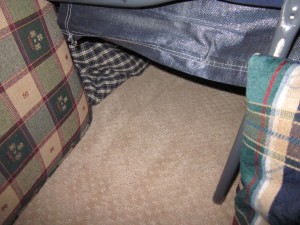 The room of refuge had an escape door…a very tiny escape door….but not quite older-sibling-proof. Wesley and I both managed to crawl through. :)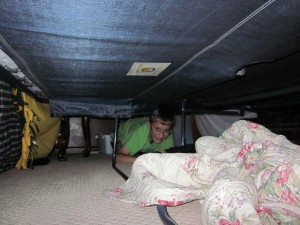 This led to a passageway underneath our hida bed which led back to the entrance. Well, after I had gone though the whole thing, I was very impressed. Of all the inside forts made by us Noble children over the years, I'd definitely say that this one beats them all. Austin and Jonathan are very creative. I am constantly amazed at what they can make with a tub of LEGOS or with a chunk of wood and a carving knife or anything else. What a blessing they are!
I hope you're having a wonderful Wednesday! :)