Hello everyone! During a walk in our woods one day, I was inspired to write down a few things I've learned from growing up with brothers. I love where God has put me in our family: right between an older and two younger brothers. I can't imagine my life without one of my siblings. But of course we have our share of hard times. I am far from the perfect sister and I never will be. So as you read this, know that I am working on each of these things in my own life. As one writer put it, "my finger points back at me as I write". Quite true for me as well! :)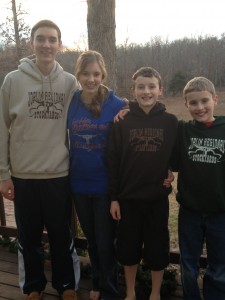 Remember, if you have brothers, they are some of God's greatest blessings in your life! They truly are. Don't wait until they're all grown up to have a good relationship with them. Brothers grow up so quickly. Often I'll look over at one or more of them and think, "wow. Can he really have grown up that fast!?!" Treasure the time you have with each one of them. So with that in mind, here are some specific ways you can be a blessing to your brothers:
Bless them with good food. You've probably heard the quote "the way to a man's heart is through his stomach". And though it's funny, it does make a point! In a family with growing boys, food doesn't last very long! :) So take that opportunity to bless your family with meals and special treats. Plan with your mom to surprise them with a favorite meal or dessert. They will really appreciate you for it.
Ask for their opinions. It's amazing how much feedback you'll get from your brothers when asking for their opinion on something! :) Try doing it with a new article of clothing. I remember going thrift shopping while Wesley pushed the cart for me. I'd pull shirts from the rack and ask his opinion on different tops: "you like this one?", "how 'bout this one?". It was fun to see his response, and it really helped me make some decisions!
Be mindful of modesty. It's especially important to think about modesty when there are a bunch of guys in your family. If you have a shirt with a lower neckline, make sure to layer something under it. Place your hand over the front of your shirt when bending down to pick something up. Just be extra mindful about things like that.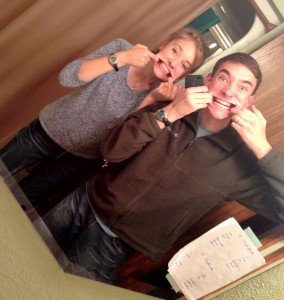 Laugh and be goofy. I couldn't help including the picture above, and yes, I do believe there are times to be silly and goof around together! :D My brothers make me laugh like no one else. It's such a great way to bond and make hilariously fun memories.
Teach younger ones/help with school subjects. This is not limited to younger brothers only. Try it with any of your younger siblings! Last year Mom asked me to teach geography to Austin and Jonathan. I agreed, rather reluctantly at first, but I was amazed at how much fun we had! I will always treasure the fun memories and laughs we had together that semester.
Encourage them. As sisters we have a huge opportunity to encourage our brothers. Huge! I need to take more advantage of this. Listen to them when they want to show you their creations, forts, and buildings. Ask them about their work, school, or whatever else is going on in their lives. There are countless opportunities to "build them up" during the day. Really try not to nag them, though it may be tempting at times. It doesn't accomplish anything anyway. If you need to point out something to your brother or ask him to do something, do it lovingly and gently.
Ask how you can pray for them. Talk with your brothers about things they need prayer on and ask them to pray for you in areas that you're struggling in. This will often turn in to meaningful conversations you wouldn't otherwise have.
Treat them like young men. Remember that each of your brothers is a growing young man, and you want to treat him like one. Avoid "patronizing" younger brothers in a superior kind of way, even if your intention is kind. They will someday be leaders and heads of their own families. Try to encourage them often in responsibility, leadership, and manliness.
There are few things sweeter and more precious than a strong brother/sister relationship. Sadly it's becoming an increasingly a rare thing these days. But if you do pursue your brothers and strive for a good relationship, over time, you will gain their confidence and trust and they will gain yours. It's one of the most rewarding things you can do, and the relationships you build with your brothers now will continue to bless you in the years to come.