I am always on the hunt for a good chocolate chip cookie recipe. I have tried many recipes, and some of them turn out well, but only because they are made with white flour and lots of butter and sugar. When I switched gears and made whole wheat cookies with little or no sugar and some olive oil in place of butter, the results were often as flat as a pancake and not very tasty.
But then I tried this recipe made with 100% whole wheat flour, some sugar, stevia, and coconut oil. I was very pleased with how the cookies turned out. They puff up and are big, thick, and soft. They're just what good ol' chocolate chip cookies should be! :) I've found that using cold flour (verses warm, freshly ground flour) improves the texture quite a bit. We store our flour in the freezer, so it's the perfect temperature.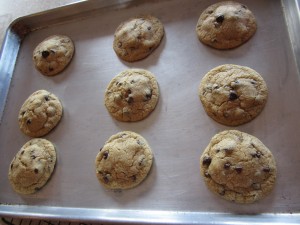 Ingredients:
3 cups whole wheat flour
1 1/2 teaspoons baking powder
1 teaspoon baking soda
3/4 teaspoon sea salt
1 cup coconut oil, softened (make sure you don't melt the coconut oil, just heat it for a few seconds so that it's not too hard)
1 cup brown sugar
1 Tablespoon powdered stevia (optional, this just makes a sweeter cookie)
2 eggs
2 teaspoons vanilla
1 1/2 cups dark chocolate chips
Preheat the oven to 350 degrees. In a medium bowl, whisk together the flour, baking powder, baking soda, and salt. Set aside.
In a large bowl, cream the coconut oil and sugars fluffy. Add the eggs one at a time and mix well. Beat in vanilla. Beat this mixture for 2-3 minutes, or until it is very light. Slowly add the dry ingredients to the wet, and mix just until incorporated. Stir in the chocolate chips.
Roll into large balls (about 2 Tablespoons) and arrange onto a baking sheet. Bake for about 9-10 minutes, or until the edges are just golden brown. Cool on a wire rack, and enjoy! This recipe makes about 3 dozen cookies.