I have been working on a lengthy research paper for my English final. I chose to write on the dangers of the chemicals in processed foods. My research turned out to be fascinating to me, and I thought it would be neat to post sections of my paper over the next couple of weeks. I'll divide it into a four-part series, and I hope you're interested and enlightened as I was about processed foods!
Before you read the introduction, take a look at the picture below. This is a picture of my brothers and I eating our first Twinkie ever. :) And, let me tell you, it will probably be the last Twinkie I ever eat. Now don't get me wrong – I have a huge sweet tooth. But this is just about as unwholesome as sweet things can get. You'll see why in the posts to follow.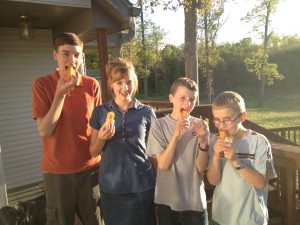 "Would you rather eat a slightly brown, mushy apple picked from your aunt's apple tree or a Twinkie?" Ask anyone that, and they'll think you're joking. When Twinkies come wrapped so nicely in little packages and taste like "a little bite of heaven" why would you even ask such a question? Besides, a mushy brown apple is, well, gross! I encourage you to think again. In reality, it's the Twinkie that is gross. I won't just make that claim without backing it up. In the next few sections, I'll prove to you why Twinkies and other processed foods are harmful to the body. I hope that by the end of this paper you will agree with me, and be inspired to eat more foods in their natural state as you "think beyond the wrapper."
Chemicals are rampant among processed foods today. Hiding under the name of "additives", their harmful effects are underestimated. Most people are not aware of what goes into the processed foods they eat. The awareness of the dangers of chemicals in processed foods must be increased. There are an estimated 3,000 types of chemicals or "additives" put in processed foods today (SixWise.com). They are used as bleaches, coloring, flavorings, preservatives, and sweeteners.
This paper will be covering four of the most harmful man-made ingredients found in processed foods: coloring, preservatives, trans fats, and and artificial sweeteners. It will expose the truth of how dangerous these chemicals can be: what they are and how they affect the body. Although food manufactures argue that such a small amount of these chemicals are consumed in processed foods, add up all those "small amounts" over a year, a decade, or a lifetime, and the results are shockingly harmful.
Stay tuned for part #1 about artificial coloring!