Yes, it's another cookie recipe. But may I also mention that it's one of the BEST cookie recipe I've come across and that I'm super excited about it? I think you'll be excited about this one, too, especially if you delight in making "secretly healthy" food….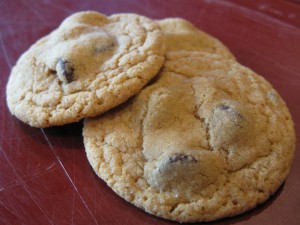 I was *thrilled* to find a completely whole grain chocolate chip cookie recipe that actually tasted this good. Brother approved and all! I have long sought after a cookie recipe that is whole wheat and compares with all-white flour recipes. This is my new go-to cookie recipe when we need cookies and I doubt I'll need another one. Why do these taste so good and look so beautiful AND manage to be whole grain?
The secret?
Oat flour! I am much indebted to the genius of a baker who thought to powder oats in the blender and use it for flour. Using a mix of whole wheat flour and oat flour, you can achieve a perfect texture and amazing taste every time.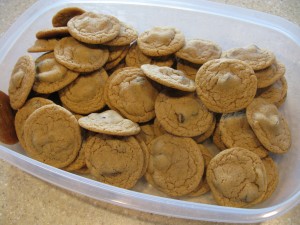 This is a large batch and makes lots of cookies – between 5 and 6 dozen. Make up a bunch, serve them warm with milk, pop any leftovers in the freezer and see how long they last. It won't be long, I'll betcha anything. ;)
Whole Grain Chocolate Chip Cookies
Ingredients:
1 ½ cups butter, softened
1 ½ cups white sugar
1 ½ cups brown sugar
3 eggs
1 Tablespoon vanilla
¾ tsp. salt
1 ½ tsp. baking soda
1 ½ tsp. baking powder
3 cups whole wheat flour
3 ¾ cups rolled oats, powdered for a few seconds in your blender
1 ½ bags (3 cups) dark chocolate chips
Preheat oven to 375 degrees. Line a baking sheet with parchment paper and set aside.
In the bowl of a mixer, cream butter and sugar. Add the eggs and vanilla and beat until light and fluffy, about 3-4 minutes. Add salt, soda, baking powder, oat flour, and whole wheat flour and mix. The dough will be fairly stiff at this point. Mix in the chocolate chips.
Place rounded tablespoons of dough on parchment-lined cookie sheets. Bake in a 375 oven for 8 minutes. Do not overbake, they will firm up as they cool. Let sit on the cookie sheet for a few minutes before transferring to a wire rack.
Enjoy!