For those of you who have been following my blog for at least a month, you've probably seen some changes in the design. Now this is credited entirely to my brother, Wesley. I had asked him to make my blog look a bit more grown-up while retaining its playful, light, feminine colors. He readily agreed to take on the challenge! Here is what my blog looked like initially: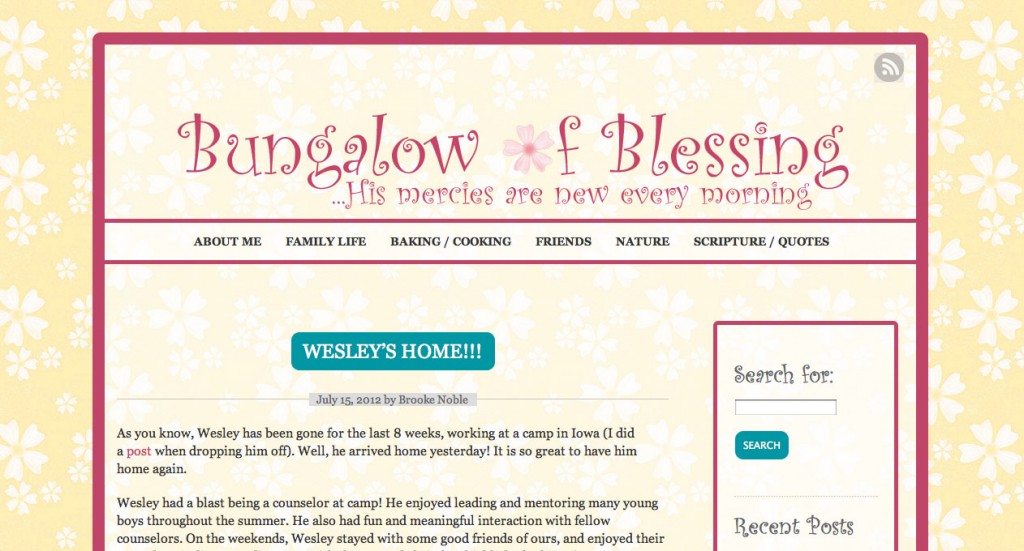 And, well, I guess you don't need a screenshot of the updated version now, do you? :)
Wesley is very gifted in the area of creativity and design (as I am not), so I completely trusted him to revise my blog. Here are a few things he has done:
– Lightened the yellow color, making it a bit paler and "dusty" in color.
– Removed the hard reddish lines around the edge – I think it creates a more "open" look.
– Framed each picture with a soft gray color.
– Added widgets to my sidebar!
– Redesigned the header at the top, giving it a new font.
– Added the "LinkWithin" widget. This is amazing. For all of you fellow-bloggers out there, you should seriously consider getting this widget. It's not a scam, it's free, and very easy to install. I even use it sometimes when I visit my own blog! :)
….and he did a whole bunch more things I don't even know about! Thank you, Wesley! I'm blessed by you in so many ways, including your being my continuous "tech support"!