I really enjoy a cup of tea. Whether it's herbal tea at night or black tea in the morning, tea always brightens my day. Sometimes I like to have a little something with my tea, and scones are the perfect treat.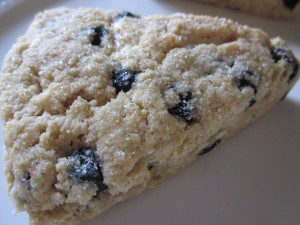 Our family loves scones. I've been making them for several years, and I've tried many recipes.   I recently combined several recipes to make scones which are not terrible for you but still taste delicious. I sometimes make them for breakfast with a fruit salad, or for dinner with an egg bake or quiche. You can use any sort of dried fruit or chip. Our favorite scones have always been the chocolate chip and the lemon-blueberry variations. You can skip the white flour and use all whole wheat, but it does add a nice texture.
Ingredients:
1/2 cup unbleached all-purpose flour
1 1/2 cups whole wheat flour
1/3 cup sugar
1 teaspoon baking powder
1/2 teaspoon salt
1/4 teaspoon baking soda
1/4 cup butter, cold
1/4 cup olive oil
1/2 – 3/4 cup raisins, chocolate chips, cinnamon chips, or any other dried fruit
1/2 cup plain or vanilla yogurt
1 egg
Preheat oven to 400 degrees.
In a medium bowl, stir together the flours, sugar, baking powder, salt, and baking soda. Grate in the butter and add the olive oil. Use your fingers to clump the mixture until it's crumbly. Add the dried fruit or chips.
In a separate bowl, whisk together the sour cream, milk, and egg. Add to the dry mixture and stir with a fork until dough forms. Turn dough out onto a floured surface. Gently pat into an 8 – inch circle, and cut into 8 wedges. Place each wedge on a greased baking sheet (or bake in a scone pan, if you have one), and sprinkle the top of each scone with sugar.
Bake for 15 – 20 minutes until the tops are golden brown. Transfer to a wire rack and let cool a bit. These are wonderful plain or served with jam, whipped cream, or lemon curd. Enjoy!
Makes 8 scones.
Note: if you don't eat these in a day or two, make sure to store them in the freezer. Do not refrigerate them, as they'll quickly dry out.
Variations:
Cinnamon scones: use cinnamon chips, add 1 teaspoon of cinnamon to dry mixture, use milk for the liquid, and sprinkle tops of unbaked scones with a cinnamon-sugar mixture.
Lemon-blueberry scones: used dried blueberries, lemon juice for the liquid,  and add 1 – 2 teaspoons of lemon extract or grated lemon zest.
Cranberry-orange scones: used dried cranberries, orange juice for the liquid, and add 1 -2 teaspoons of orange extract or grated orange zest.