It's been pretty busy around here lately. Busy, but blessed. The weather has been unbelieveably cool for it being June in southern Missouri! We have been weeding the landscaping for several days now, and it is almost done!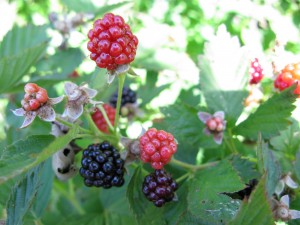 Our blackberry bushes are producing quite the crop this year! I had no idea there were so many of them on our land! I pick berries to eat them, but Austin, the entreprenur of the family, picks them to sell. He is hoping to sell them at farmer's market when they're ripe. :)
Speaking of farmer's market, yesterday was our second week of selling baked goods at our local market. Austin and Jonathan make giant cookies to sell, and I make bread and cinnamon rolls. I did a post (http://www.bungalowofblessing.com/?p=108) on it last year, and that pretty much explains what we do this year as well! It has been great to see old friends and customers from last year! :)
Last weekend we enjoyed a peaceful and relaxing afternoon at a creek. I got this picture of Jonathan – he was swimming around with his head under the water, watching all the minnows. :) I like how this turned out!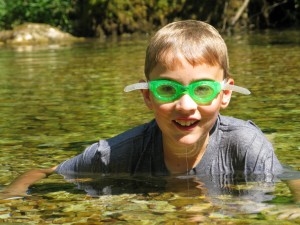 I made these amazing little peppermint patties this week (found here: http://www.elanaspantry.com/peppermint-patties/). They are DELICIOUS, and healthy too! If you decide to make them, here are a few tips: I used 1 1/2 teaspoons peppermint extract, which helped to hide the coconut taste. Make sure the chocolate is cooled before you dip them. You can substitute honey for the agave nectar. Make sure to store these in the fridge or freezer….if they last that long!
So that's a little peak into our summer days. We are missing Wesley as he works at camp, but God has been faithful, and His mercies are indeed new every morning! Have a blessed evening!