Petting Greta on the back deck, enjoying the quiet summer night and watching fireflies. Bliss.
Getting to talk with a new mom during a rotation in OB and take her to see her baby. Watching the 3-hour old baby grab her finger and hearing her say "I can't belive she's mine!" I melted.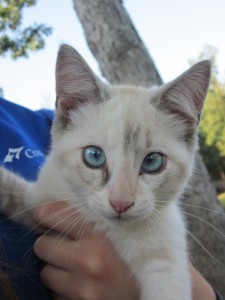 Meet Suzie. She's one of the sweetest kittens ever. We got her for Wesley on his birthday, and we're hoping that she'll be a good mouser.
Streaking barefoot across our property in a spur-of-the-moment footrace with my brother. I got a head start, so it didn't really count. :p
Seeing my big brother for the first time in weeks.
Eating the first blackberries from our berry bushes.
 Leaving the hospital after a shadowing rotation and smiling at a cute little girl in a red checkered dress and pigtails. She asked her mom "who's that?" and the mom replied, "she's a nurse!"                   Made my day. :)
Listening to the Piano Guys. Wow.
Having only one week of classes to go!
Looking forward to good things ahead.
Playing volleyball after classes one afternoon. It was a blast! I was very sore the next day. :)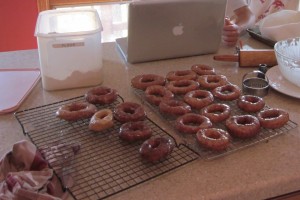 Spontanious doughnut-making. What a hoot! So I was driving the boys home from soccer one day, and as we passed a bakery, we all started thinking of doughnuts and seriously couldn't get them out of our minds. When we got home, I looked up a recipe and we made some. They turned out wonderfully, we had a blast making them, and the fire alarm only went off about 20 times! :p You can find the recipe here. They're made with part whole-wheat and fried in a tad bit of coconut oil, so we didn't feel as guilty eating them. I made a powdered sugar glaze instead of dipping them in sugar. Yum. They didn't last long!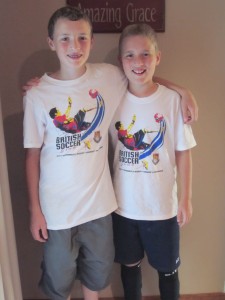 Watching these handsome guys play soccer at soccer camp.
Oohing and aahing over my brothers' fair projects. From tie-dye t-shirts and wood burning to rock statues and brownies, these guys have been hard at work!
Fresh starts, new mercies, joy in the morning.
Though often we don't know what tomorrow will hold, knowing Who holds them.
The overwhelming goodness of God.