Hello everyone!
Here's a few random tidbits from our days:
Mom recently found a recipe for "doggy popsicles". What a great idea! I made one for my dog, Greta, as soon as I could. It was so simple to make, and Greta l-o-v-e-d it. If you have a dog (even an unspoiled one, like mine :), try making these fun summer treats.
Here's what you do: fill some water in a small/medium-sized container and add a bit of chicken or beef broth (1/2 cup or so). Add a handful of dog kibbles, small bones, or a few toys. Freeze. When it's solid, run the container under some warm water and it will pop right out!
Greta couldn't get enough of it! :)
It's peach season! We recently got a bunch of peaches from a local orchard to freeze. We got a few just for eating (pictured below) and a bunch of seconds for freezing. Yum!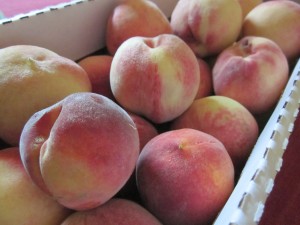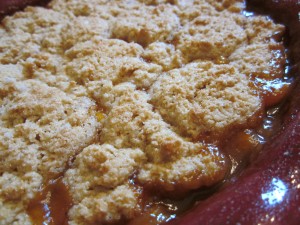 I made a healthy peach cobbler yesterday. It turned out pretty well, but I've decided that I like crisps better than cobblers. (Crisps have a crunchier topping with oats, and cobblers have a biscuit-like topping). But they're both tasty! Which kind do you like better?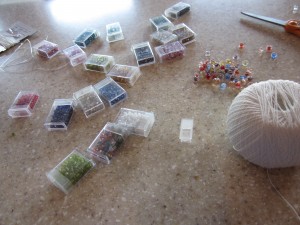 This morning the boys and I did some beading. I had a lot of beads from several years ago, so I thought we could do something with them. You can make so much from string and beads. Jewelry, decorations, and bookmarks, to name a few.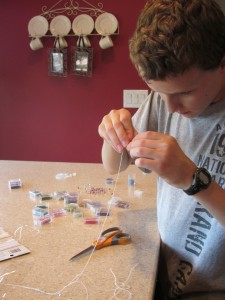 The boys chose masculine colors. :)
I discovered an easy way to make a pretty bracelet. (Not being gifted in the area of bracelet-tying, this was a relief to me :). Simply braid three strands of yarn or string together, incorporating a bead every few braids. Slip a bead onto one of the strands and continue braiding. Easy peasy, and it looks great! :)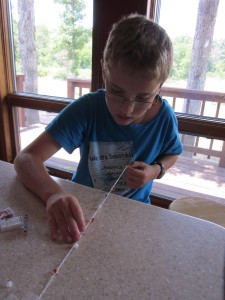 Well, that's all for today. Thanks so much for dropping by, and have a lovely afternoon!
~Brookie