Hey girls! Today I have a wonderful hairstyle for you to try. It's another updo/bun! I learned about this hairstyle from a friend from church. Her hair was absolutely gorgeous one Sunday, and I asked her how she did it. When I tried it on my own hair, I was very pleased with the results.
This is a great hairstyle for girls who have a hard time getting their updos to stay up. Aka thick, long, straight hair like mine. :) But I'm pretty sure it would work for any hair type. These pictures were from my first attempt.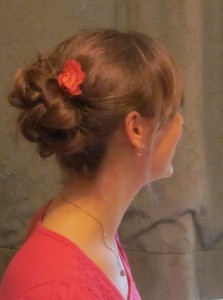 Here's how to do it:
(1) put your hair in a ponytail about halfway down your head.
(2) take a small section of hair with your right hand, twirling it around two fingers of your left hand. Pin the base of the little coil around your ponytail with bobby pins. I've found that using 2 criss-crossed pins holds it best. Continue to twirl and pin sections of hair around your ponytail (I coiled my hair into about 8-12 sections).
(3) fuss with it a bit until it suits you. :) Don't be worried by how messy it may look. Simply use a few more pins to secure any loose strands or pieces of hair that stick out. I think this hairstyle simply begs for a flower, so you might consider adding one when you're finished. :)
The beauty of this hairstyle is that it will stay ALL. DAY. LONG. because you pinned your hair up in sections instead of one big piece. If you decide to give it a try, tell me what you think! :)
Have a lovely day!