The farthest north we ever went on our "vacation up north"  was during our stay in Grand Marais, a cute little town right by Lake Superior and close to the border. We spent three days there in total, the second of which we went to Canada! It was the first time my brothers and I have been out of the U.S.! But I'll back up and start with our first day there. On our way from the cabin we went to Sawtooth Mountain Park to ride its Alpine Slide. Now let me stop and explain- this particular slide is half a mile long, running down the side of a huge hill. You ride on a sled, and can control your speed. My whole family did it- and my brothers and I each went at least twice-it was a blast!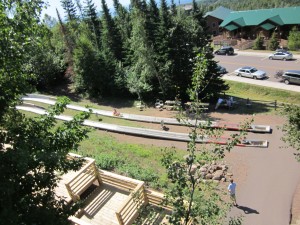 This is the end of the slide.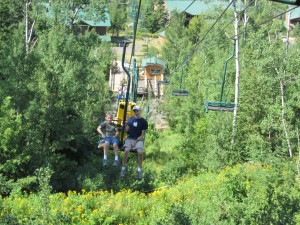 We rode a chairlift to the top- here's Jonathan and Wesley riding behind Austin and I.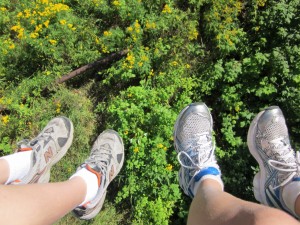 It was fun to ride so high up…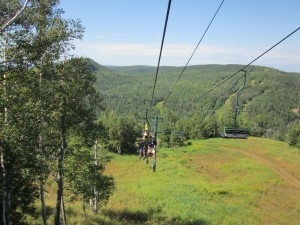 …and the view from behind was breathtaking!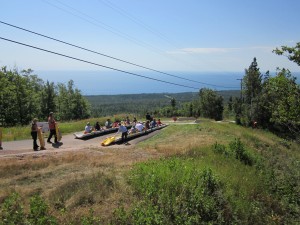 The top of the slide.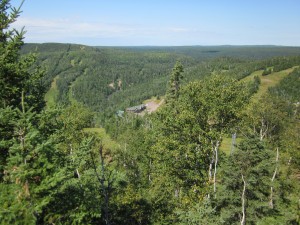 A view from the top of the hill.
I took this just before starting down the slide.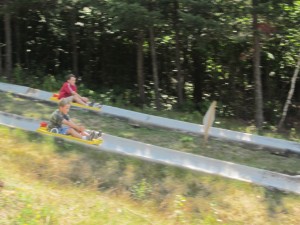 Austin and Jonathan nearing the end- they were both going full speed!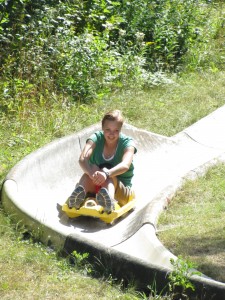 I liked going fast, too!  :-)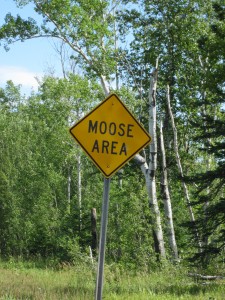 On our way up to Grand Marais, we saw many of these signs. Yep, we were definitely not in Missouri!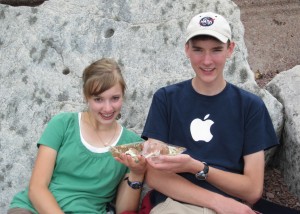 We stopped to have lunch and play at a beach- Wesley and I shared a leftover piece of pie from Betty's Pies.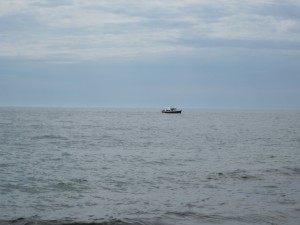 We then went hiking on a rocky shore on Lake Superior.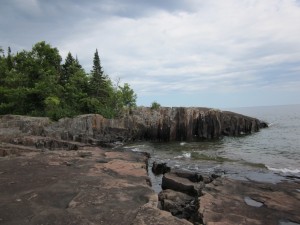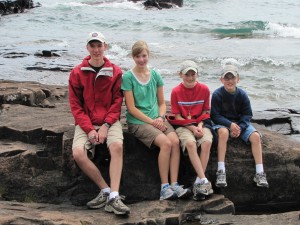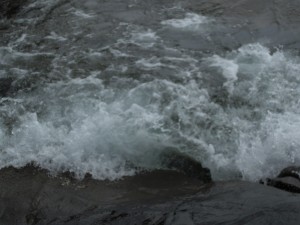 It was a blustery day, and there were lots of waves that came crashing onto the rocks.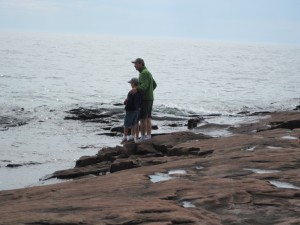 I love this picture of Daddy with my two younger brothers!
That night we went out for pizza and went bumming around town, exploring the shops. Austin said that he found his "favorite store ever" in Grand Marais. It was an outdoor gear place with lots of survival equipment and outdoor recreation supplies (like kayaking, canoeing, mountain climbing, etc.). Definitely his kind of thing! Mom and I found a health food store and got a mix of chocolate covered almonds and malted milk balls. Kind of healthy…maybe…the chocolate was dark…and it was from a health food store? Oh well, it was fun anyway!
The next day we went to Ontario, Canada!!! I just had to get a picture of the border patrol station-rather touristy of me, I know.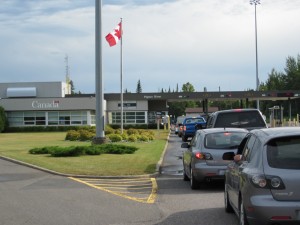 Once in Canada, everything looked pretty much the same except for the numerous Canadian flags, the road signs were different (most of them I didn't even recognize), and the speed limit signs were all in kilometers, which was very strange. Lots of them read "90 kilometers", which can be very confusing at first glance for an American driver! :-)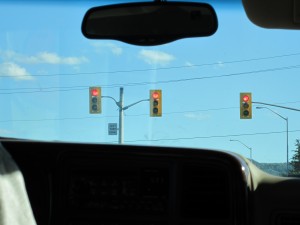 And the stop lights were different too!
We went to a reconstructed fur trading post, called Fort William Historical Park, for the day. It was really neat! There were actors dressed up in costumes, and pretending to be from the year 1815. It was very interesting and insightful.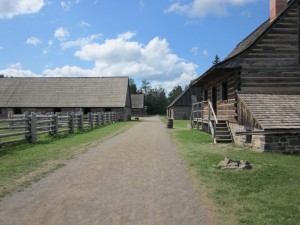 This is what inside the fort looked like.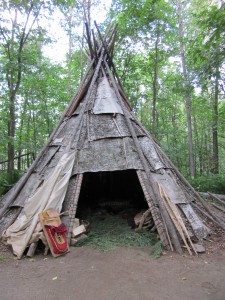 A tepee outside the fort.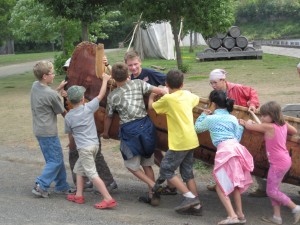 The actors also did several skits. One of them involved a canoe. They invited all the kids to come and help drag the canoe into the fort. Austin and Jonathan are at the front end of the canoe.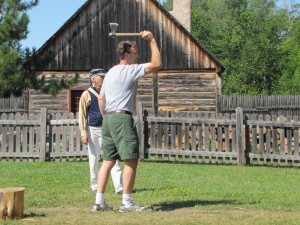 Daddy enjoyed doing the ax-throwing. Standing at least 15 feet away, he hit the stump with the heavy ax almost every single time! We were all quite impressed.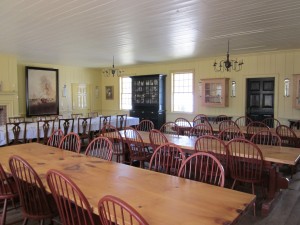 The inside of one of the nicer buildings- this is the dinner hall for leaders and other important people.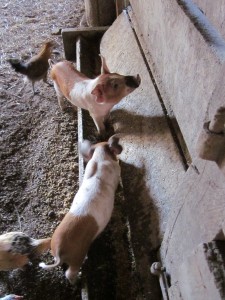 There were lots of animals in the fort. My favorite part was the barn- it had chickens, pigs, sheep, cows, and these piglets.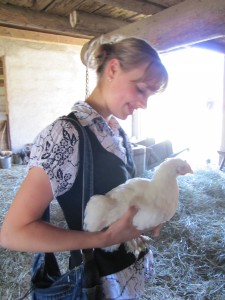 It was so fun to be in Canada. I got a souvenir there- a cute, purple t-shirt with CANADA on it. I'll always think of our time in Canada when I wear it!