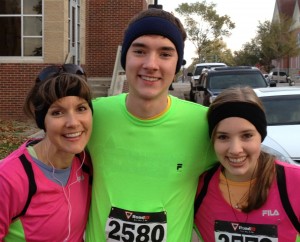 Yes, folks, we DID indeed finish our half-marathon race on Saturday! It was great to see, or rather, feel our training pay off.
I think I mentioned before that we were going to do the Bass Pro half-marathon here in Springfield. There was a change a plans, as we have something going on that weekend, so we did a smaller race near Kansas City instead.
So I got up around 3:45 on Saturday morning to get ready. Our whole family left at 4:30, and started driving for a town called Warrensburg. It was cold, cold, COLD that morning. :) Which made me appreciate all the more our awesome pit crew. Daddy, Austin, and Jonnie-B were all incredibly supportive. They would drive to different spots along our running route, and cheer us on. :)
One bummer was that my iPod completely froze up at the beginning of the race. It was acting goofy the day before, too, but I didn't worry to much about it. I had spent lots of time finding great running songs, and putting them on my iPod for the race. After the race it started working perfectly fine again. That was a bit…..odd. Anyway, Mom very graciously let me use hers for part of the race, which really helped.
Now this race course was super hilly. It seemed to me like we were running one hill after another. The first 8 miles or so felt good for me, although it was hard to eat energy chews while trying to run at the same time. ;) I started feeling pretty tired during the last two miles, and had to slow down a bit. Mom and Wesley had more energy left to speed it up during the last mile, but very graciously finished with me. :) We finished in 2:08, almost the exact time as my time from last year!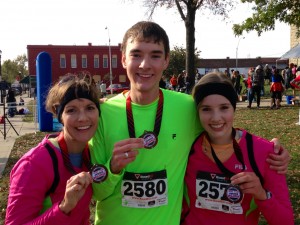 After the race….whew! I was pretty tuckered out. :)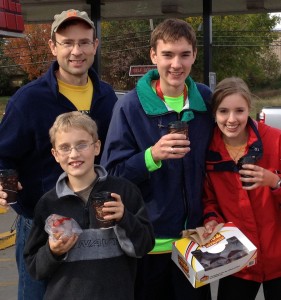 A Noble tradition after a races (for both racers and pit crew) is to get cappuccinos. I don't know when this tradition started, but we've done it for quite a while. What fun memories!
 So there you have it! I must say that it is indeed a privilege to be able to run any distance. So many times I take health and the ability to be active for granted. I don't want to end this post without saying that all the glory goes to God. He gives us the strength to do things in the first place, and whatever we do, be it eating, drinking, sleeping, working, or playing, may we always do it to His glory!
Have a wonderful day!
~Brookie