It's time for my next "drink of the month" post! For July, I'll post a family favorite: orange refresher. It's a bit similar to blueberry lemonade (another family favorite). This yummy drink has a tangy kick to it because of the orange concentrate, but plenty of sweetness with the honey! The recipe is supposed to make four servings, but, well, I usually have to make more for our family. It doesn't last long! :)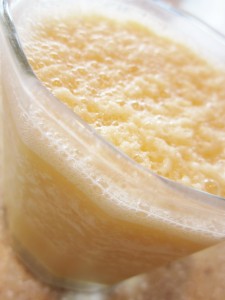 In your blender (we use a Vitamix) blend together:
1 cup plain yogurt
1 cup water
6-oz. can frozen orange concentrate (ours are always 12-oz cans, so I just use half of one)
1/3 cup honey
1 1/2 teaspoons vanilla
8-12 ice cubes
Blend for 30-45 seconds, or until smooth. Enjoy!