Mom and I just got back from dropping Wesley off at a camp in Iowa. He is going to be a senior counselor there for the summer. I won't see him for 8 weeks! :( BUT the trip up there was a fun one, and we enjoyed our time together. We first traveled through Illinois up to Wisconsin for my cousin's graduation party. I learned how to drive on the interstate, and I really enjoyed it! Here are a few pictures from our time: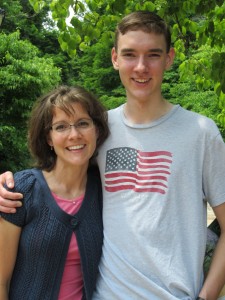 Mom and Wesley at a rest stop along the way.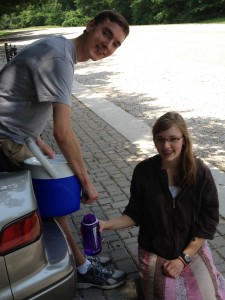 Refilling our water bottles. :)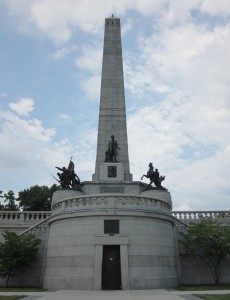 On our way up to Wisconsin, we stopped in Springfield, Illinois to visit Abraham Lincoln's tomb. It was much bigger than I had expected!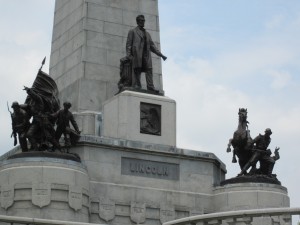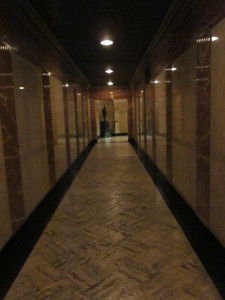 The tomb's interior.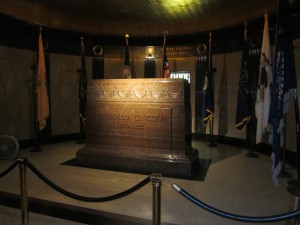 This is where Lincoln is buried.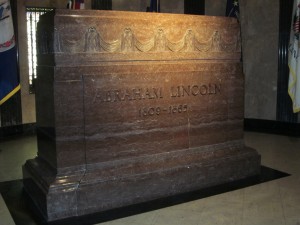 The rest of the cemetery was very impressive as well!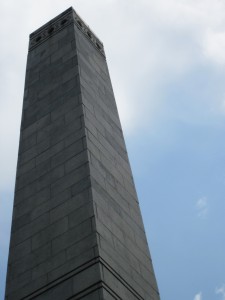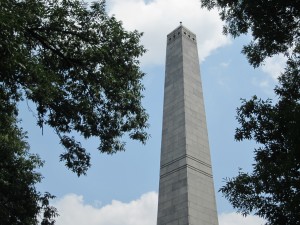 I love how the trees framed this picture!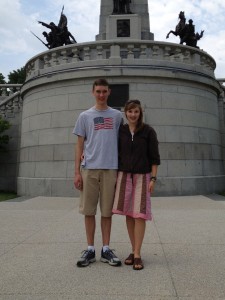 I'm so glad we had the time to stop and see Lincoln's tomb. It was a neat opportunity to have as we were passing through.
Next we headed on to Wisconsin. We stayed at my Uncle's house for the night, and the next morning, Mom and I went on a run.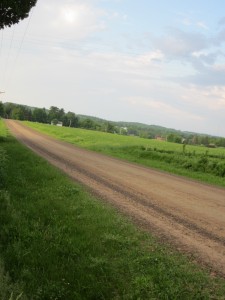 The gravel roads in Wisconsin. We actually ran on part of Mom's high school track route!!!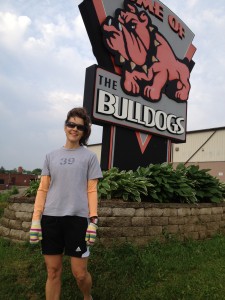 Here is Mom in front of her high school! It was just like running down memory lane for her!
Later that morning, we went to help set up the graduation party.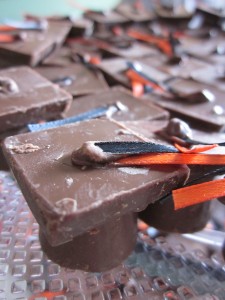 Aren't these chocolate "graduation caps" adorable!?! These were made with Rolos…
…and these were made with peanut butter cups!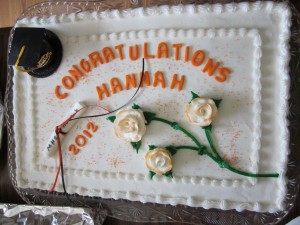 The graduation cake.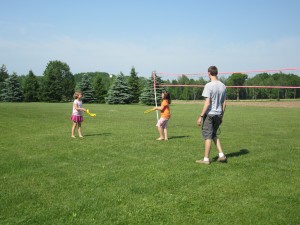 Wesley and I played catch with our little cousins Maddie and Emma before the party began. I thought this was a sweet picture.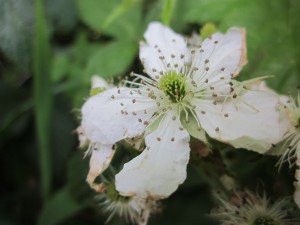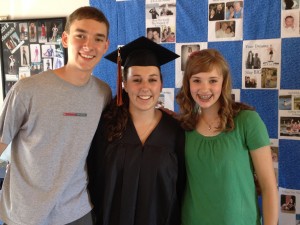 Congratulations on your graduation, Hannah!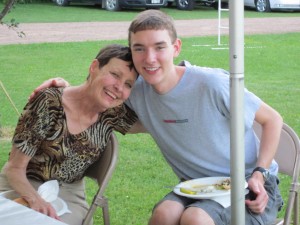 During the party, we got to see much of our Olsen family. Here's Wesley with our grandma. We enjoyed visiting with her! It was great to catch up a bit with family that we haven't seen for a very long time!
Wesley and Hannah (at least in this one Hannah doesn't have bunny ears!) :)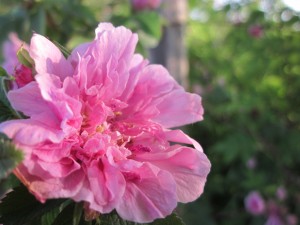 The next morning dawned bright and beautiful. Before we left, I took a few pictures of these lovely flowers.
.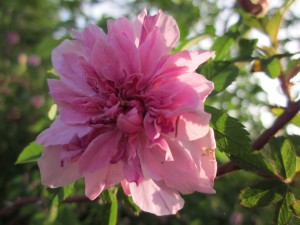 .
They were growing right outside my Uncle's house.
.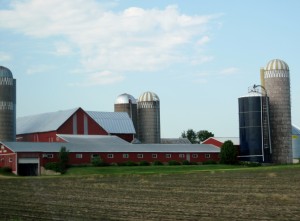 .
On the drive back down through Wisconsin, we enjoyed the beautiful countryside scenery of northern Wisconsin. At Wesley's camp, we got him moved in and situated. It was very sad saying goodbye to him, but I'm grateful that he has this opportunity. I hope it blesses him and the many little campers he'll be taking care of! :) We're going to miss you, Wesley!
That night, Mom and I stayed with Mom's cousin, Heather, and Heather's husband, Josh. It was great to see them! We enjoyed a delicious dinner and visiting.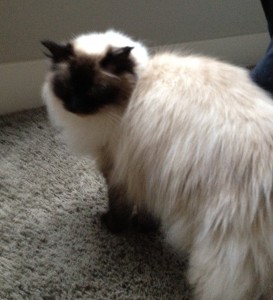 Scooter, Heather's cat, graciously let us sleep in her room during our stay. :) :)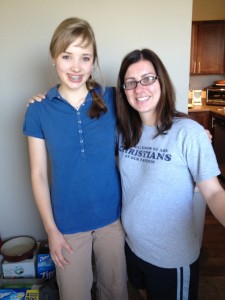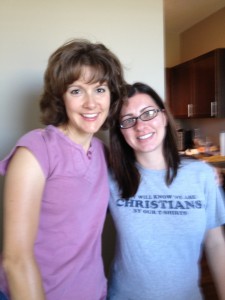 Some parting pictures with Heather. Thank you, Heather and Josh, for your hospitality!
The drive home was one of my (many) highlights! Mom and I had a sweet date. We first hit the Trader Joe's in Des Moines before heading home. Because there's not one where we live, it was a treat to go shopping there! We bought some popcorn and an organic dark chocolate bar to split on the way home. I drove most of the way home. Mom and I decided that when I drive, it's mutually beneficial to us because it keeps me alert and gives me practice, and it keeps Mom very alert, too, as she supervises my driving! :)
We arrived home that evening to find a very tidy house, a nice dinner, and a surprise of homemade black raspberry jam that the guys had made in our absence. It was delicious, and quite a surprise to Mom and I!
So that concludes the account of our recent northern travels. I hope and pray that Wesley has a great summer at camp. In the meantime, we'll be praying for him and his safe return!
Have a wonderful Thursday!