Finding a good granola recipe, like our pizza recipe, has been an interesting journey for our family. There are so many different ways to make it. Mom and I have tried recipes that turned out so sweet the granola was more like a dessert than breakfast food. We tried a recipe with tons of seeds and nuts, and the finished product looked more like birdseed than cereal. :) After some tweaking and testing, we came up with a recipe that our family enjoys.
Granola is one of the most forgiving things to make. You can definitely give way to experimentation, leaving things out or adding different ingredients. You can also use a variety of nuts, sweeteners, oils, and flavorings. Our favorite way to make it is with pecans, maple syrup, and coconut oil. We like to eat it as cereal or make parfaits with yogurt and fruit. Granola also makes a wonderful addition to a gift basket. For a lovely gift, you can put it in a glass jar tied with a pretty ribbon.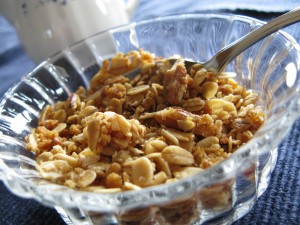 Dry ingredients: 
8 cups rolled oats
2 cups grapenuts cereal or puffed rice cereal
2 cups chopped nuts, such as almonds, walnuts, or pecans
2 cups unsweetened shredded coconut
½ to 1 cup brown sugar, depending on how sweet you like it
Wet ingredients:
1 teaspoon vanilla extract
1 teaspoon almond extract
1 teaspoon salt
1 teaspoon cinnamon
1 cup honey or maple syrup (I use ½ cup of each)
1 cup olive oil or melted coconut oil
Preheat your oven to 275 degrees. In a large bowl, combine dry ingredients. In a separate bowl, combine wet ingredients and whisk until smooth and slightly thickened. Pour over dry ingredients and mix well.
Spread onto two large greased baking sheets. Bake at 275 degrees for 45 minutes, stirring 3 times (once every 15 minutes).
Turn your oven off. Let granola cool in oven for 8+ hours or overnight, until completely cooled. Break into small chunks and store in an airtight container in your fridge or at room temperature. Enjoy!