Ever since I was little, Mom has looked forward to having a "Pearls of Wisdom" tea for me on my 16th birthday. I finally reached 16 years old yesterday, and Mom had a lovely tea for me.  What made it extra special is that each person who came shared a bit of wisdom with me. I am so incredibly blessed to have godly ladies in my life who love the Lord and who are willing to share with me what they have learned throughout their lives!
Mom also talked about a how pearl is formed when a foreign object gets stuck inside an oyster's shell. The oyster responds to this irritation by coating it with a substance which eventually forms a pearl. She compared this to how we respond when God puts hardship into our lives. Do we respond rightly, trusting in God's plan to make something beautiful with our lives? This is a wonderful challenge to me. Mom then presented me with a lovely pearl necklace to symbolize the "pearls of wisdom" that each of these dear ladies gave me.
I love tea parties! I love preparing them beforehand (making the tea dainties, setting the table, picking out the music, etc.). Mom and I had a sweet time doing it together. Here's what the tea table looked like: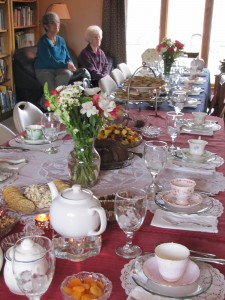 Mom got some pictures of the tea party. Here's a few of them: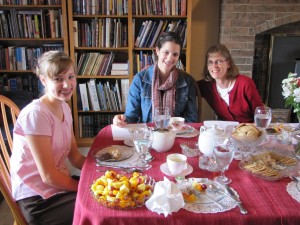 Aunt Diane,  Aunt Kathy, and my cousin Anna traveled several hours to come to the tea. It was honoring and so special to have them there!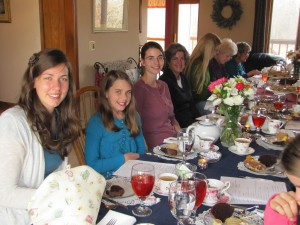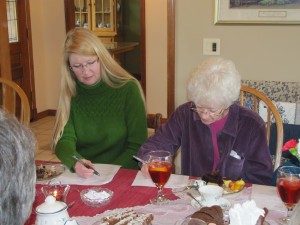 We gave everyone a "how well do you know Brooke?" quiz.  Mom, Daddy, and I wrote it, and it was funny to see ladies' reactions to some unexpected answers. :)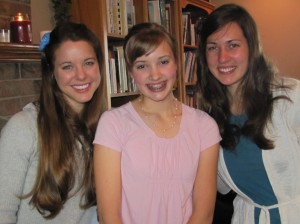 My sweet friends, Amber and Heidi.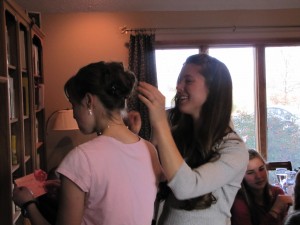 They gave me some pretty flower-clips, and Amber put one in my hair. :)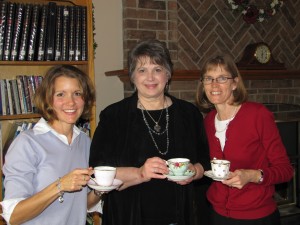 Mom, Aunt Diane, and Aunt Kathy with their tea cups.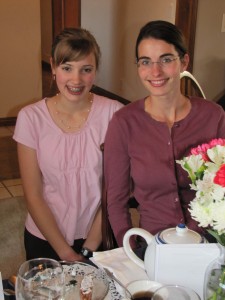 It's been so wonderful getting to know Abigail. She has helped me with many sewing projects! :)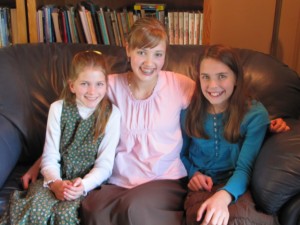 Becky, me, and Becca.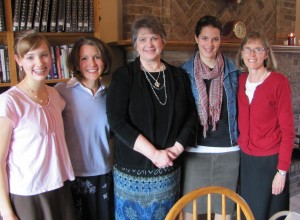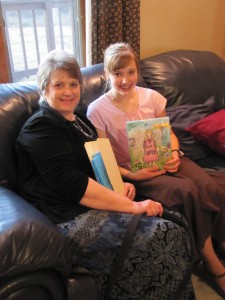 My Aunt Diane made me a beautiful plaque to hang up in my room.
I am blessed beyond measure for this opportunity to glean nuggets of wisdom from older and younger women. Wisdom is a priceless gift. It is mentioned many times in the Bible. Here are several verses I found:
Proverbs 4:5-9
Get wisdom; get insight;
do not forget, and do not turn away from the words of my mouth.
Do not forsake her, and she will keep you;
love her, and she will guard you.
The beginning of wisdom is this: Get wisdom,
and whatever you get, get insight.
Prize her highly, and she will exalt you;
she will honor you if you embrace her.
She will place on your head a graceful garland;
she will bestow on you a beautiful crown."
Proverbs 9:10-11
 The fear of the LORD is the beginning of wisdom,
and the knowledge of the Holy One is insight.
For by me your days will be multiplied,
and years will be added to your life.
It's my prayer that I'll take to heart all the wisdom that was shared with me, and grow in the Lord my 16th year. To Him be the glory!