It's been a wonderfully blessed month. The "transition" to summer has taken place: less school, hot weather, and going to bed each night listening to the croaking of frogs. Yes, summer is officially here. :)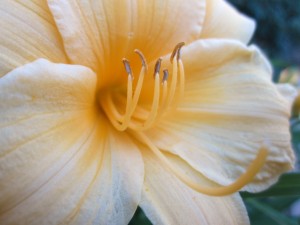 April showers bring May flowers. Indeed they did! :)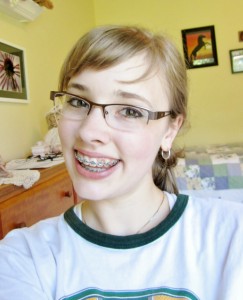 – I recently got a pair of glasses. I need them only for reading, computer work, and driving, so you probably won't see me wearing them much. But here's a picture of what I look like wearing them…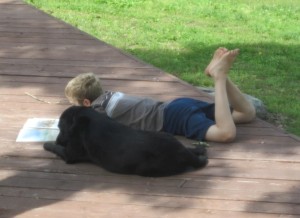 – One morning I was baking in the kitchen, and I saw this priceless scene out the window. I ran to grab my camera, and I'm so glad I did. Ahh….a boy and his dog…it doesn't get better than that!
BUT then again, I had this dialogue with Jonathan that very same night:
Jonathan: Brookie, can I have Greta's pelt when she dies?
Brooke: (!!!!!!) No.
Jonathan: Well, whatcha gonna DO with it?
Brooke: I'm going to bury her in the ground.
Jonathan: Brookie, you could get 100 DOLLARS for her pelt! What a waste!
(FYI: He didn't get very far in convincing me. That was pretty much the end of the discussion, but I could barely contain my giggles.)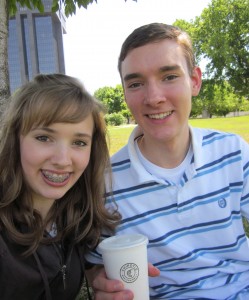 – I am very happy to say that finals are over! I have enjoyed my online classes, but I'm glad to have a break. Wesley and I were both pretty fried by the end of them! :) We finished classes the same day, and after leaving the campus, Wesley took me out to Chipotle for a celebratory lunch. Finishing classes is especially big for Wesley because he is now "officially" done with high school! We were both very grateful and happy to have A's in all of our classes.
-I've been working a bit on my photography skills. Here are several pictures that I've taken. To see the excellent work of other photographers, visit http://www.godsworldphotography.com.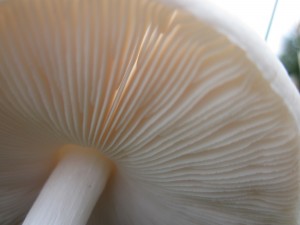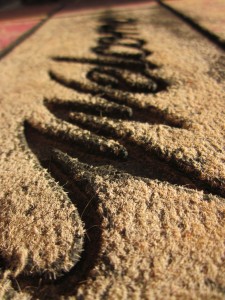 -I have been very blessed to be Mom's training partner for her triathlons this summer. We do runs and bikes together, and it is a blast – and also a challenge –  to keep up with her! I am so grateful for such a sweet and spunky Mom to do things like this with! :)
– This month's encouragement I will save for my next post, as it is rather lengthy. It's a devotional by Charles Spurgeon, and our whole family was incredibly blessed by it. I hope you will be too! So until next time, have a blessed evening!