I would like to start posting a monthly update around the middle of each month. That way, I can always cover the month's highlights, even though sometimes I post more faithfully than others! I'll just post a few pictures and highlights and end with a thought-provoking or encouraging piece of literature, poem, song, or Scripture.
So, with those things said, here is my first monthly post entitled "March blessings", hence the name of my blog. :) I hope you enjoy it!
– A few days ago, I unwrapped a chocolate and this is what the wrapper said: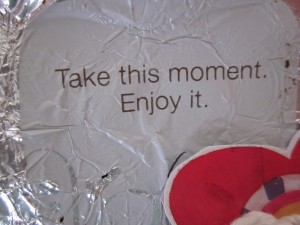 This is good advice. We can never re-live a moment. It reminds me of an Irish proverb: "Dance as if no one were watching, sing as if no one were listening, love as if you've never been hurt, live every day as if it were your last." :)
– I was recently inspired by some friends of ours to read The Count of Monte Cristo. It's a very, very long book, but I'm determined to finish all 1,462 pages of it by the end of this summer. I've already read about 200 pages and so far, it's been great!
– It's hard to believe that I'm over halfway done with school for the year. My college classes have been just the right challenge for me: not too hard, but definitely not easy!
– It's biking season!!! We just got out our bikes this past week, and have started using them on trails nearby. We're also starting to desert the treadmill and run outside!  :)
– Spring is here already! It's been absolutely beautiful these past few weeks.  Lunch has (very informally) been moved to the deck for the most part. Greta usually joins us, as you see here!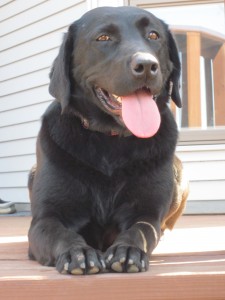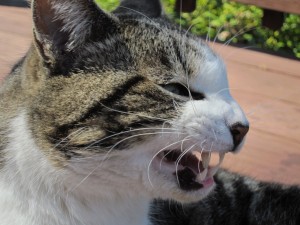 Whoa – stay away from that cat! Truman usually comes prowling around, hoping for some scraps. Apparently, though, he wasn't it a very good mood when I took this picture of him…. (actually, he was in the middle of a yawn, but he looks fierce anyway! :)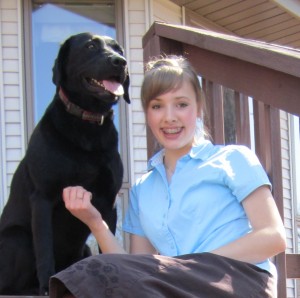 My little puppy sure has gotten big…. I remember when I got her several years ago: this picture below was taken in 2008 (I think) at a different home. Greta was only a few months old at the time. She was the cutest puppy ever!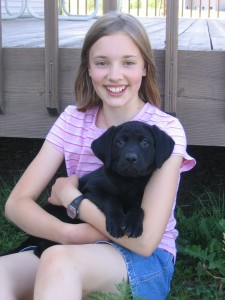 – 'Tis the season to begin yard work! We're also clearing away a spot in the woods for a large fire pit. It will be so fun to use this summer!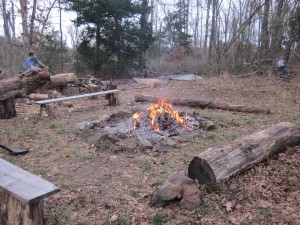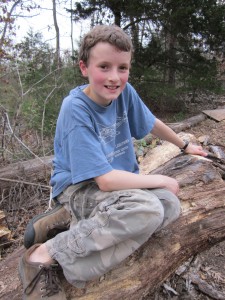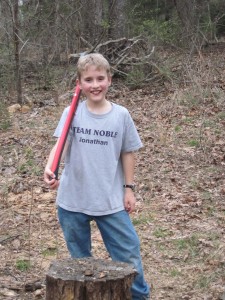 –  Daffodil, all types of flowers, and "pretty weeds" (dandelions :) are popping up everywhere. Sooo beautiful!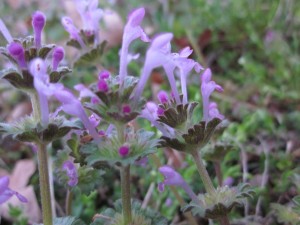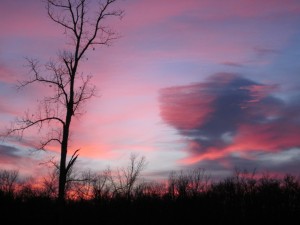 Isn't that a lovely sunset!?!
– In choir, one of the songs Wesley and I are singing is called "Make My Life an Alleluia"  by Ruth Schram. The words are so beautiful. It is so true that no matter where we are, what we're doing, what trials we face, what joys we delight in, that the Lord's grace will continue to surround us!
Make my life an alleluia, a song of praise to You each day.
To proclaim Your grace and glory, fill my heart with your praise, I pray.
When I stand at the mountaintop, or the valley of despair,
this will be my cry, my song, my prayer;
Lord, make my life an alleluia.
Make my life an alleluia, a gift of love to You my King.
I will join with all creation in the song that the heavens sing!
The earth will turn, and the planets spin, as the seasons ebb and flow;
still, Your grace surrounds me as I go.
Lord, make my life an alleluia.
Make my life an alleluia, this offering of myself I give to you.
I will share Your grace and mercy for as long as I shall live.
When I come to my journey's end, may those left behind be reminded,
this has been my cry, my song, my prayer.
Lord, make my life an alleluia.