Our family spent a most enjoyable Labor Day at Roaring River State Park. As we drove into the park, we saw a very shallow murky pond near the road. Wesley, who is always making funny comments about things, said the park should be re-named "Stagnant Swamp State Park".                                        That guy makes me laugh. :)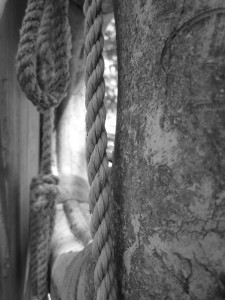 A (very) old life preserver. I doubt it would do a good job preserving lives in its condition… :) But I thought it would make a good subject for a black and white photo.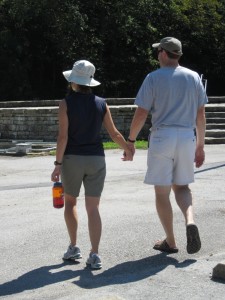 We walked around the park and visited the hatchery there.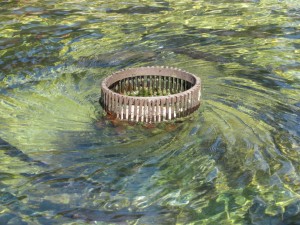 This was interesting  – a fish tank with a whirlpool effect.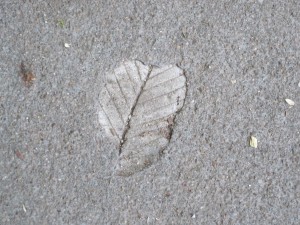 Austin and Jonathan found an excellent climbing tree: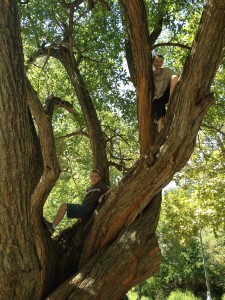 Just look at those guys! When it comes to climbing trees, I'm convinced that my brothers are half monkey! (OK, not really) :)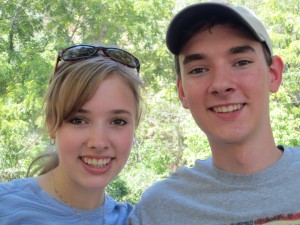 WC and I. <3
After walking around a bit, we found a shady spot and stopped to picnic near the water. We had such a lovely picnic, enjoying each other's company. After lunch, some of us waded in a river, and Jonathan found a snake on a log near the water's edge. Here's a picture of it: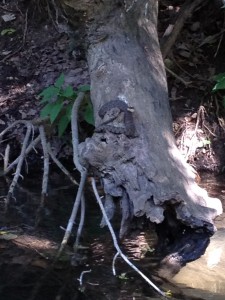 Yikes! I'm glad Jonathan decided to look carefully before climbing that tree! We thought it looked like a copperhead, but weren't quite sure. So yes, between this post and the last, you can see that we do have quite a few snakes and spiders down here in Missouri. :)
It was quite a relaxing day trip. We ended our day at home with popcorn and a movie .
I hope you all had a great Labor Day as well!
Happy Wednesday! :)
~Brookie