OK – this is a girly post. It's about hair. :) As the temperature continues to increase, I've been needing to pull my hair up more and more. But I wanted something different than a regular pony tail. Here is a pretty and feminine hair style that I recently learned how to do. It's a quick, easy, and cute messy bun. This style works best for medium (shoulder-length) or longer hair.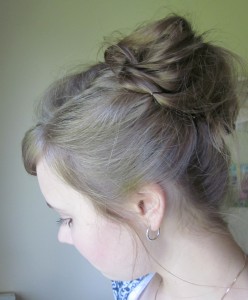 I love the "messy look", but it's harder for me because I have very straight hair. It's easier to make starting with wet hair, but you can do make a messy bun with dry hair, too – just skip ahead to step 2. Here's how to do it:
(1) If you have straight or wavy hair, scrunch a bit of curling gel into your wet hair. Blow dry your hair until it's only damp.
(2) Gather your hair into a high pony tail, and start to tie off with a hair band, but don't pull it all the way through. Leave it as a loop.
(3) Now here's the fun part. "Mess" the loop of hair around the center into a bun. While holding the bun with one hand, insert bobby pins all around it.
Just mess around with it until it suits your taste. I've found it helpful to gently tug on the hair-bun to give it a fuller look. You may need a whole lot of bobby pins, or you might only need a few, depending on the thickness of your hair (I have thicker hair, so I use more).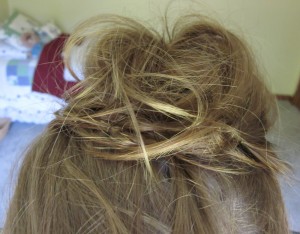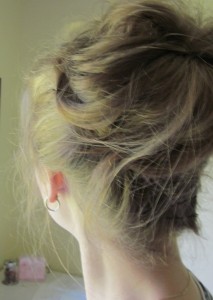 This is a very fun style. Be creative! Adding a headband or a few flowers looks very feminine. You can pull a few strands out for a softer look.  After you've styled it to your taste, spray it with a bit with some hairspray to hold. This should last you all day, provided that you used enough bobby pins! :)
What about you girlies? What are your favorite summer hairstyles? I hope you all are having a great summer!