In our family it's no secret that I love popcorn. Plain popcorn is one of my favorite snacks. Ever. ;)
But there are many different variations of popcorn you can make: kettle corn, savory herb popcorn, caramel corn, popcorn with dark chocolate M&M's, and….honey butter popcorn! This is a "lightened up", healthier version of caramel corn. It's lightly sweetened, and it has a wonderful flavor. Be sure to give it a try on your next family movie night. We love it, and I hope you do too!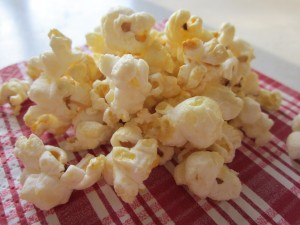 Preheat your oven to 350 degrees. Spray a large baking sheet and set aside. Pop about 2/3 cup popcorn. This will give you about 12 cups.
In a small bowl, mix together:
4 Tablespoons melted butter
1/2 cup honey
Add to the popcorn and stir well. Bake in oven for about 7 minutes, until golden and crispy. Spread on waxed paper and sprinkle with salt, if desired. Let cool, and enjoy! :)