Hello everyone!
Whew! It has been a while since I last posted!  Things have been pretty busy lately. Here's a little update on what's going on in my life.
– It's been beautiful outside these past couple of weeks! We have all enjoyed the weather immensely. I love going on walks though our woods. Many times, I don't even need my jacket, and I can keep my bedroom window open. (Having lived in Wisconsin for several years, I'm still asking, "can this really be January!?")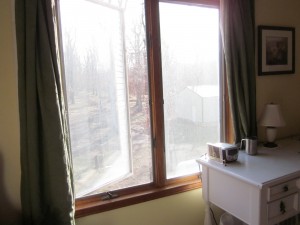 – Family group. We've been going through Greg Koukl's series "Tactics in Defending the Faith" with several other families at our home. It's been wonderful to spend time with these families and I am learning so much from the material we're studying!
– School. I'm taking an online math class and an English class with our community college. I'm in the third week now, and I am getting the hang of things. Two other academic "biggies" are competitive speech, and an anatomy course. (we're almost to the dissections – I can't wait! :)
– Running, playing volleyball on Wednesdays, choir, Spanish lessons. I've enjoyed doing these on a weekly basis!
– Cooking! I've made it a goal to learn to make some new meals. And as muffins and breads and cakes are not a meal, this has been a great challenge for me! :)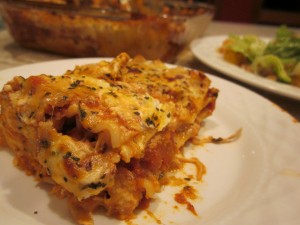 – The sniffles. Yep. Our family has held out for most of the winter, but my younger brothers both came down with colds last week. Poor guys! I've been drinking lots of water and disinfecting everything in sight (OK – not quite everything, but almost everything!) :)  Nevertheless, I came down with a short, but really bad flu bug. It came and went within two days….very odd. But I'm grateful it didn't last any longer!
– Last Friday, Wesley drove me to choir practice in the morning. I also had Spanish lessons that afternoon, so we stayed in town and went out for lunch. It was super fun! I'm so blessed to have such a wonderful big brother! :)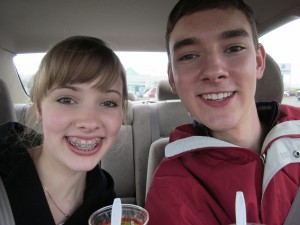 – In the midst of a busy season of life, it's easy for me to get caught up and distracted from the Lord. But setting time aside each day to spend with the Lord is richly rewarding. I was reading Romans 8 the other day, and this passage stood out to me:
35 Who shall separate us from the love of Christ? Shall trouble or hardship or persecution or famine or nakedness or danger or sword? 36 As it is written:
"For your sake we face death all day long;
we are considered as sheep to be slaughtered."
37 No, in all these things we are more than conquerors through him who loved us. 38 For I am convinced that neither death nor life, neither angels nor demons, neither the present nor the future, nor any powers, 39 neither height nor depth, nor anything else in all creation, will be able to separate us from the love of God that is in Christ Jesus our Lord.
Although everything around us will eventually wither, die, and disappear, God's love is from everlasting to everlasting! We can place our hope and trust in Him. He will never forsake us.        I challenge you, as I do myself, are we putting our focus on Christ? Is our manner of life worthy of the gospel of Christ (Philippians 1:27)? I know that I fall short, time and time again. But by God's grace, I pray that He will strengthen us to do His will, and that we will glorify Him in all things!
Have a wonderful and godly week!