Hello! :) Boy oh boy, do I ever have an amazing recipe for you! If you like hot, creamy, flavorful, and easy-to-make soup on a cold winter day, here's something for you to try. As promised, I'm posting the soup we made for Mom and Daddy's anniversary dinner. And yes, I re-named this soup, because there are several different vegetables in it – not just onions.
You won't believe that this creamy vegetable soup is made without milk or cream. This would be the perfect kind of soup to serve in a bread bowl – something I would like to learn how to make. Best of all, it has only 5 main ingredients, and can be whipped up in no time. OK, I bet you're dying to know how to make it by now, so here it is: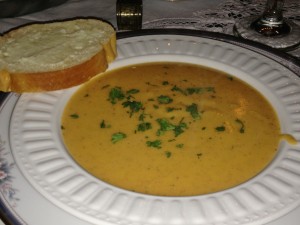 Creamy Vegetable Soup
12 cups vegetable and/or chicken stock (I used about half of each)
5 pounds of unpeeled red potatoes
3/4 cup butter
3 onions, sliced
4 tomatoes, cut into chunks
salt (2-3 tsp) and pepper (1 tsp)
Cook the potatoes in stock until nice and soft. Meanwhile, melt butter in a pan over medium heat. Add onions and tomatoes; saute until very soft (the mixture will be a bit squishy).
Use a blender to thoroughly blend potatoes, broth, onions, and tomatoes until smooth. I used our Vitamix, and blended it in four batches. Pour into a large saucepan; add the salt and pepper. Stir over heat until heated through (I didn't need to do this, as the soup was plenty hot already). Garnish with parsley or cilantro, if you like.
This recipe makes a large batch, serving 8-12 people, depending on whether it's enjoyed as a main dish. You can make it the day before, and simply re-heat on the stove the next day. Serve with a salad and some rolls or fresh bread. Enjoy! ;)
What do you like to make for dinner on cold winter nights?