Warm, deliciously most, chocolate-y with subtle undertones of cinnamon and vanilla….what could be better? This is one of my absolute favorite uses for zucchini. Try this recipe and see if you don't agree. Your kitchen will smell heavenly and you'll have a wonderful snack, breakfast, or dessert to feed your family.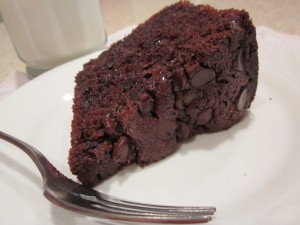 Chocolate Zucchini Bread
1  cup olive oil
1 cup sugar, white or brown (or 1/2 cup of each)
3 large eggs
1 tablespoon vanilla extract
2 cups grated zucchini, squeezed dry (about 3 medium)
1/2+ cup cocoa
2 cups whole wheat flour
1 teaspoon baking soda
1 teaspoon salt
2 teaspoons ground cinnamon
1 cup plain yogurt or sour cream
1 cup dark chocolate chips
Preheat oven to 350 degrees. Grease a bundt pan and set aside. In an electric mixer, beat oil and sugar on medium speed until well combined. Beat in eggs, one at a time and then the vanilla. Beat in zucchini.
In a separate bowl, whisk together the flour, cocoa, salt, baking soda and cinnamon. Add the dry ingredients alternately with the yogurt to the wet ingredients. Fold in chocolate chips.
Pour batter into prepared pan and bake at 350 degrees for  1 1/2 hours or until a cake tester inserted in the middle comes out clean. Cool on wire rack. Cut in slices and serve. Enjoy!