Hello everyone! It's quite a wet, rainy, Saturday afternoon here in southern Missouri. Things are starting to look greener already with the much-needed rain!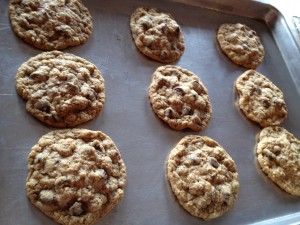 Cookies are so nice to make on a rainy day. I don't know why, but they just are. Here is a wonderful cookie recipe that I recently "rediscovered" in one of our cookbooks.
I like adding oats to cookies not only because they provide nutrition, but they also help whole wheat cookies to puff up and hold their shape instead of spreading out as flat as a pancake. So turn on some soothing music, put on an apron, and give these delicious cookies a try – I'm sure you'll enjoy them!
½ cup butter, softened
½ cup coconut oil
1 ½ cups brown sugar
2 eggs
1 teaspoon vanilla
2 cups whole wheat flour
2 1/3 cups rolled oats
2 teaspoons baking soda
1 teaspoon cinnamon
2 cups semisweet chocolate chips
– Preheat your oven to 350 degrees.
– In the bowl of an electric mixer, beat together the butter, coconut oil, and brown sugar until smooth. Add in the eggs, one at a time, and then the vanilla. Beat entire mixture very well on medium speed, about a minute.
– Add in the flour, rolled oats, baking soda, and cinnamon. Mix well. Stir in the chocolate chips. Form into 1-inch balls, and bake at 350 for 9 – 10 minutes for chewy cookies (or a bit longer for crispy cookies), until the edges are barely golden. Let sit on trays for 5 minutes before removing to wire racks. Makes about 2 ½ dozen cookies.
Enjoy with a glass of milk or a cup of tea! :)