Due to allergies, my younger brother Austin cannot eat wheat or dairy. Mom and I have been experimenting with some recipes that he can eat. My favorite flour to work with is buckwheat flour. Despite its name, buckwheat is not a type of wheat. It is actually a fruit seed that comes from a plant which is also called beach wheat. It has a triangular shape, and does not contain gluten. Austin's favorite cookie has always been gingersnaps, and I so made a batch with buckwheat flour. They turned out wonderful! I like them even better with buckwheat than with whole wheat or even white flour!
You can use almost any type of flour (whole wheat, all-purpose, spelt, etc.) in these cookies. I have cut back on the sugar a bit, but you can add the full amount for a sweeter cookie.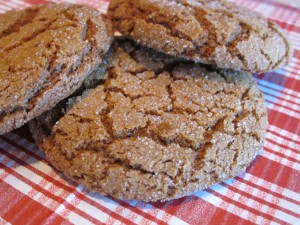 Ingredients:
2 1/4 cups buckwheat flour
2 teaspoons baking soda
1 teaspoon ground ginger
1 teaspoon ground cinnamon
1/2 teaspoon ground cloves
1/4 teaspoon salt
3/4 to 1 cup brown sugar
3/4 cup olive oil
1/4 cup molasses
1 egg
Preheat oven to 375 degrees.
Stir together the first 6 ingredients. Combine the remaining ingredients and beat well. Add dry ingredients to beaten mixture, beating well (the dough will be pretty wet). Form into 1-inch balls and roll in granulated sugar.
Place on an ungreased cookie sheet and bake at 375 degrees for about 9 to 10 minutes, until nice and "cracked" on the top. :)
Makes about 2 1/2 dozen cookies. Enjoy!