I think we can all relate – our kitchen sometimes accumulates small pieces and heels of dry, old(er) bread that nobody wants to eat. This can be a problem. The bread is too good to waste, but is not in shape to eat. What can be done with this tricky situation?  I have a delicious solution for you! Make baked french toast!
This is a great recipe we got from friends several years ago. It will make your kitchen smell wonderful, and it makes a tasty breakfast, dinner, or lunch! You can prepare it the night before, and bake it in the morning for an easy, but delicious breakfast. For a complete meal, serve with fruit and yogurt or a fruit salad.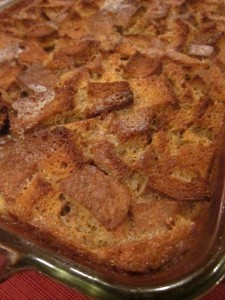 Ingredients:
8-10 cups bread, torn into small pieces (enough to fill a 9 by 13 pan).
3 cups milk
8 eggs
2/3 cups honey
2 teaspoons vanilla
1 1/2 cinnamon
1/2 teaspoon salt
Mix together the milk, eggs, honey, vanilla, cinnamon, and salt (you can do this easily in a blender). Put a layer of bread in a greased 9 by 13 pan, then pour some of the wet mixture over it. Continue to do layers until everything's used up. Sprinkle with cinnamon sugar and dot with 1-2 T butter. Now you can pop it in the refrigerator overnight (or bake it right away).
In the morning, preheat oven to 350 degrees, and cover the french toast with foil. Bake covered for about 60 minutes, or until the center is set. Let cool for a few minutes, and serve with maple syrup. Enjoy!