Hello, my dear readers!
Please don't mind the horrible header of this website. I don't know what happened to my poor bungalow, but I'm talking with IT support (aka brother) to get it fixed!
I am finally sitting down to write about life and give you a glimpse of what's going on in my life. Actually right now I SHOULD be at the first day of my new job, but – as things happen – I have come down with a nasty cold. Though it's not fun, it does have its perks: it's nice just being able to be home and slow down, take a deep breath, and catch up on all those little things you keep sweeping under the rug for later. And also it's important reflect on life from time to time.
As you may have guessed, yes, the day has come for me to trade my waitressing apron for scrubs. Leaving my job as a waitress was bittersweet. I felt ready to move on, but will always treasure the memories and appreciate the experience and all the things I learned as a waitress. I will be training for a position at our local family birth and wellness center, working part-time while I'm in school. I am super excited about this opportunity!
Here's a school update: the ASN program that I will received my RN degree through is – in a word – challenging! It is very different from the LPN program, which I wrote about here. Our instructors are more like facilitators of our education. They call themselves "guides on the side instead of sages on the stage," resulting in a lot more self-directed learning. The biggest challenge has been changing the way I study. I hardly cracked a textbook in the LPN program, but now that's pretty much all I study from for the tests. It's a whole new way of learning, folks, and the ability to take vast sums of information and pick out what's really important to study has been tricky (to the suffering of my test scores!). But I am slowly getting the hang of things as we progress to a whole new level of learning. It's exciting because the focus is not so much on pure knowledge, but the development of critical thinking in the clinical setting through the application of previously-learned knowledge. Here are a few pics from nursing school: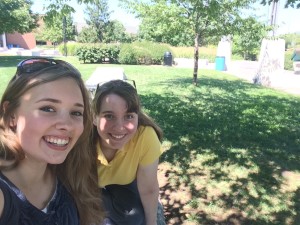 My dear friend, Keenan, and I escaped from school over lunch to study at a park. Love this girl! She puts up with all my quirks. :)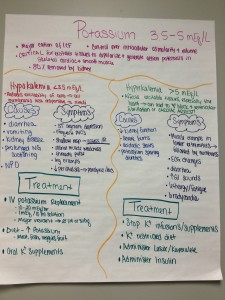 While studying fluid and electrolytes, our class was divided into groups and given different topics to present to the class. I got to lecture on potassium imbalances!
Outside of school and work, I have enjoyed developing hobbies to help stay balanced and motivated. I continue to run and lift (wonderful stress relief!), keep up with close friends, attend dance class with Wesley, babysit, and my most recent hobby – teaching myself to play the guitar, which has been uber fun. Before moving, our piano was my sanctuary and, needing to find a different musical outlet, I recently discovered the beauty of guitar music! Talk about richness of sound and diversity of notes! I'm not great by any means yet and am still learning the basic chords, but it's been really fun to tinker around with when the music urge hits. I especially like that just by learning a few simple chords, you can sing many different songs, including lots of hymns.
One last thought I want to leave you with before I leave. I was hit full force with this encouragement the other night while listening to Laura Story's commentary on her song "He Will Not Let Go." She says that when we're wavering or cold in our faith, it's not that we need "bigger faith" or we just need to "try harder." It's not the size of our faith that matters: it's the size of our God! There is such blessed comfort and peace know that God sends His grace and mercy to pursue us and bring us back to Himself! No matter how much we doubt His love or flail around in our imperfection, His grip on our lives never. ever. loosens. And He holds us just as tightly today as the day He redeemed us as His own. Our faith isn't about us. It's about our incredible God. And when we trust that His unrelenting grace will pursue us (and has pursued us) all the days of our life, there is such rest to be found! So if you're in a cold season or feel like you're not growing in your faith, remember this: that God is our good Shepherd and we are pursued by Him. Loved beyond measure. Permanently redeemed as His own. He will never stop working in our lives. And He will never leave us to ourselves. He is making something beautiful out of each one of our lives, so to Him be all the glory and praise!