Last Friday night, we went to a wedding in Des Moines, Iowa. My Mom's cousin, Heather, was getting married. We left on Friday morning, and drove about six hours to Des Moines.
We were fresh and full of energy: (see last picture below)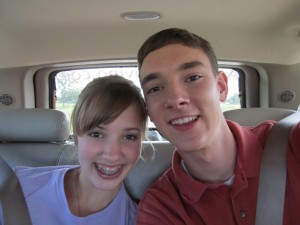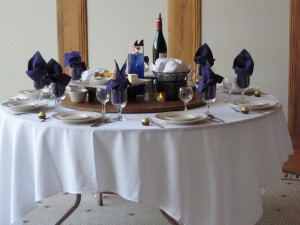 It was a lovely and God-honoring wedding. The reception was very fancy and beautifully decorated.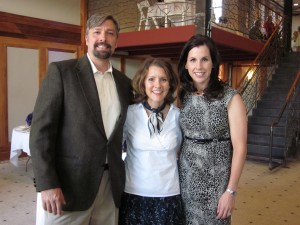 Mom with two of her cousins. It was so neat to see relatives that I've either never met before or haven't seen in a very long time.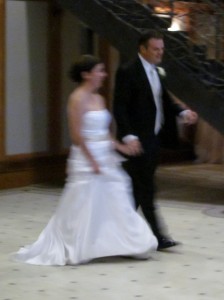 I was debating whether or not to include this in my post. It's the best picture I could get of the bride and groom. It looks pretty bad. But the bride was lovely, and they looked so happy together.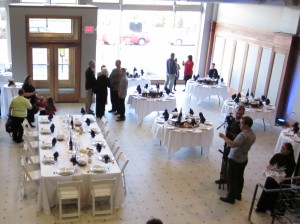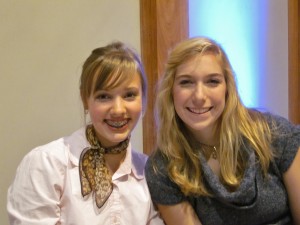 My second cousin, Sierra Skye, and I. It's been a long time since we've seen each other, and it was great to visit and catch up a bit! :)
An unexpected thing happened during the wedding. On their way to the wedding, my grandma, aunt, and cousin were in a car wreck. They were only several blocks away from the wedding when a drunk woman driver crashed into the side of their car. It was totaled! But (praise the Lord!) everyone was okay. My grandma and cousin were stiff and sore, but aside from that, no one was hurt. There were other cars that were damaged in the accident. One of my uncles was driving right behind my aunt's car, and the front of his car was dented. But he and his family were alright. It was truly a miracle! Mom received the phone call after the wedding ceremony. She and Daddy left to go pick them up and take them to the hospital to insure that no one had any internal injuries. My aunt was able to rent a car and return back home safely on Saturday.
I am amazed at God's mercy in sparing their lives. Things could have happened so differently.  He had a hedge of protection around our family, and we are so grateful! Somehow, in His perfect plan, He used that for good in the lives of our family.
After the wedding, we stayed with some neat friends of ours. My parents knew their parents in college and we've been family friends ever since. It was wonderful to see them, and be blessed with their hospitality!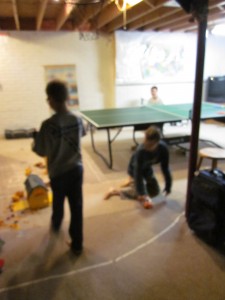 On Saturday morning, the boys played with Nerf guns in the basement. The darts were flying thick, and I found darts sticking to my shirt more than once! :)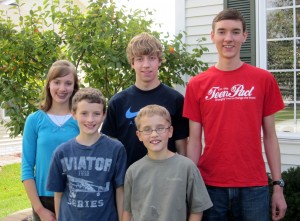 All of us kids from left to right: Me, Austin, Michael, Jonathan, and Wesley.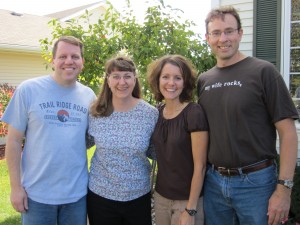 Mr. and Mrs. Stevens with our parents.
Thank you so much, Steven family, for the wonderful time we had!
After leaving the Stevens' house, we had a mini family reunion of sorts. Heather and Josh, the bride and groom, were so very gracious to have all of Heather's relatives over to their apartment.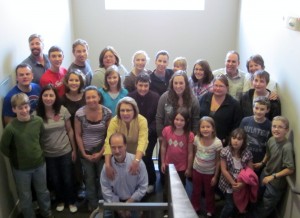 Here's a group picture. There were several cameras, and as a result, everyone was looking at different ones. Here's one where about half the people are looking at my camera. It's the best picture I got. Josh, the groom, is wearing the bright blue shirt on the left, and Heather, the bride, is in the gray shirt next to him.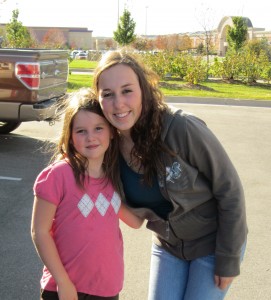 Two of my cousins, Hannah and Maddie.
It was a great two days. By the end, we were REALLY tired (especially Wesley), as you can see here:
*Just kidding.* It wasn't THAT bad at all. We're just being goofy. :)
Anyways, it was wonderful to see friends and family. We all had a neat time. I'm so grateful that God protected my grandma, aunt, and cousin in the car wreck! It was definitely an eventful two days!