Hi there! It's been a lovely Wednesday morning. I saved studying for the afternoon, so after a late family breakfast, I made 10-grain bread, these granola bars, and worked on my piano piece, among other projects. I am learning to play one of my favoite pieces of music: it's called "All of Me" by Jon Schmidt. After listening to it I looked up the sheet music and was surprised to find it within range of my limited musical abilities! I've finished 4 pages so far. I love to close a textbook after a bout of studying, run downstairs to the piano, and play to my heart's content. What a blessing!
Anyways, back to the reason for this post. I have a recipe for almond flour cookies to share with you today. I love baking with almond flour. Mom and I have been looking for good wheat alternatives to cut back on grains. Of course we're not entirely opposed to wheat, but we didn't want to be using it in all of our baking. I want to do more research on grains and gluten in the future.
I tried several versions of almond flour cookies before settling on this one. The first ones I made were from Elana's Pantry (a food blog). They were made with agave nectar and though tasty, turned out too mushy and soft. They didn't really stay together after baking. The next ones I tried were from the Wheat Belly Cookbook. Being sweetened with only a bit of liquid stevia, they weren't very sweet. At all. But I liked the texture, so I added in some brown sugar, added a bit more flour, and cut back on the baking time. The result was just what I was looking for: a lightly sweet cookie with a soft, but not mushy texture which held its shape. Yum! I would seriously prefer these over any wheat chocolate chip cookie.
You can make your own almond flour or buy it. Almond meal is basically the same thing, so you could use that, too. I have made these with both blanched and unblanched almond meal. You can try variations of these cookies by rolling them in cinnamon sugar for snickerdoodles or adding in oats and raisins.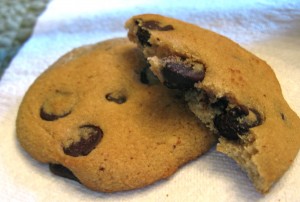 Almond Flour Cookies
⅔ cup brown sugar
½ cup butter or coconut oil, melted
4 eggs
¼ cup sour cream or yogurt
2 teaspoons vanilla extract
½ teaspoon liquid or powdered stevia
4 ⅓ cups almond meal/flour
1 teaspoon baking soda
½ teaspoon sea salt
2 cups dark chocolate chips
(1) Preheat your oven to 350 degrees. Line a baking sheet with parchment paper.
(2) Mix together the wet ingredients with an electric mixer. Mix well, then add the dry ingredients. Stir in the chocolate chips last. Don't worry, the dough is supposed to be wet. :)
(3) Drop by tablespoons onto the baking sheet. Use your hands to flatten each cookie to desired thickness, as they won't spread much during baking. Bake for 12-15 minutes, until edges are lightly brown. Let cool completely on a wire rack. This recipe makes about 3 dozen large cookies. Enjoy!
Well, the boys are home from town and ready for lunch, so gotta scoot! Have a blessed afternoon.