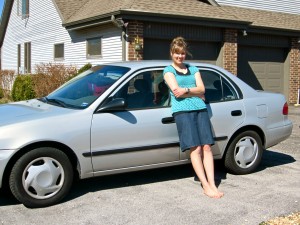 We all experience God's bountiful provision on a daily basis. It is so real and tangible when I wake up in a warm bed each morning, sit down to dinner with my family, help Mom stock the pantry and fridge full of groceries, and come home from work with a paycheck. I'm sitting down to write out this story because it's a unique example of God's amazing provision: how He provided my first car.
It all happened quite suddenly and out the blue. I have been saving for a car for some time because we knew I would reach a point when it would be awfully helpful. Mom had graciously let me use our suburban for work, school, volunteering, coffee dates, and other activities I had going on, but it was not a very sustainable or long-term plan, especially with classes starting again this fall. So I was planning to get a car toward the end of the summer.
There were several things that were very important to my ever-practical self when it came to buying cars: (1) it had to be used, but in good condition, (2) it had to be gas-efficient, and (3) though I tend to be a cheapskate, I really didn't want that ancient, decrepit, garbage-can-on-wheels look. Nope. It had to at least look presentable. So with those things in mind, I checked Craigslist a few times in the past months to see what kind of vehicles were within my price range. I'll just say that it was not very encouraging. So I just decided to wait. And work. And save. And see what turned up.
Well, fast-forward to Thursday morning last week. After several hours of schoolwork, I just happened to pop over to Craigslist and see what was up. Why I even went there I don't know, except that it was clearly providential. Up came this ad for a car that had been posted only 1 hour ago. I looked at it, read, and re-read the ad. I'm always a bit cautious of why exactly people are getting rid of their cars, but in the seller's own words: grandpa goofed! Basically, an older man was selling a car he had bought for his granddaughter because she already had a car from her dad. He no longer needed the car and was practically giving it away for less than he'd spent on it. Reading through the list of the car's qualities, I got excited: this was exactly what I was looking for. And best of all, it was within my price range!
I ran downstairs with my computer and showed the ad to Mom. She and I talked it over and she encouraged me to call the guy who was selling the car. I set up a tentative time to come see the car on Saturday morning with my daddy. I tried to not think about it anymore because I didn't want to get my hopes up. That evening, Dad was very favorable and supportive about going to see it. He also realized (as I did not) that a car at that quality and price would be gone within days, if not hours, so we figured out a way to see it on Friday instead. When Daddy called the guy for directions, he had some disappointing news: lots of people had called about the car during the afternoon and someone was test-driving it at that very moment. The man would call us back if they did NOT buy the car and it was still for sale.
I waited anxiously. 30 minutes passed, then an hour. After an hour and a half, I concluded that someone had bought the car. I was disappointed, despite my hardest attempts to not set my hopes up. I tried to console myself by saying that at that point, I didn't even have to have a car. It wasn't an absolute need. Mom reassured me that God has something even better in store for me. I knew she was right. God is in complete control. He moves people's hearts. He has a plan. I was still a bit disappointed, but I had peace about it, and moved on with the day. But hardly 15 minutes had passed when I got a call from the seller and learned the girl who was test driving the car was undecided. She liked it, but was going to wait to make a decision until the next morning. I was to call him at 10 a.m. to see if it was still available.
More waiting.
I finally called the guy the next morning at 9:52, 'cause I couldn't wait any longer. I was pleasantly surprised by what he said: "the young lady liked the car, but decided that it was too small for her." I called Dad, and Wesley and I made plans to meet him in town and drive together to look at the car. When WC and I arrived at the bank, the teller raised an eyebrow when she saw two teenagers withdrawing several thousand dollars. We had a good laugh over it. :)
When we drove up to the man's house, I saw this cute little Chevy Prizm parked in the driveway. Dad's first comment was that it was a "wittle" (little) car. I liked the looks of it right away, but aesthetics, of course, aren't everything. Dad and Wesley checked out the engine and all that stuff. At that moment I was especially grateful to have two men in my life who know cars, because I certainly don't. Everything looked and sounded good, so we hopped in and took it for a test drive. It ran well and we were all very pleased. Yes, indeed, it was a little car. Wesley's head brushed the top. But it was just my size, and with Dad's approval, I decided to buy it.
It was a bit surreal to think that I was actually driving my own car home. I had what Mom calls a "perma-grin" on my face. I enjoyed cleaning out my new car and stocking it with necessities. It was lovely to use that 13.1 sticker Mom had given me several years ago after I completed my first half-marathon. Of course it wasn't all fun….the licensing, gas, and insurance fees add up and there were a few stressful moments as I did all that messy paperwork, but that's just part of it. I am so grateful for God's provision. If the man I'd bought the car from didn't "goof," if I hadn't checked Craigslist when I did, if that other girl had decided to buy it…so much could have happened differently. But in God's perfect timing and abundant provision, I have a car today that will (hopefully) last for as long as I need it. I am very grateful.
Well, if you've made it to the end of this l-o-n-g story, then thank you for taking an interest! I wanted to write this out for future encouragement to look back on and because I consider getting one's first car as a sort of milestone in his life. But now it's time to sign off and wish you a wonderful day. Until next time, my friends!