Hi everybody!
I am popping in to say hello and share some tidbits from our summer. This summer has been so sweet. It's been nice to have a break from school to work and save and enjoy a slower pace of life. One of my highlights from the summer was volunteering as a camp counselor for a week. It. Was. Amazing. But I'll save my thoughts on that for a future post.
I think when I last blogged about "happenings" I was beginning the spring 2014 semester. I was also in the process of applying for nursing school. Well, guess what happened? A few weeks after sending in my application, I received a letter notifying me that I was chosen for an interview. Thus began the process of researching and preparing to answer questions like, "why do you want to be a nurse?" and "what's the difference between and LPN and an RN?" and "what is the role of nurses in the healthcare system?" The morning of my interview, I dressed up in my jacket and slacks and nervously drove to the school. I prayed and committed everything to the Lord, trying rather unsuccessfully to ignore the butterflies in my stomach. I really believe that God gave me peace and confidence and the clarity of mind I needed in those critical minutes. The interview over, I had only to wait. I checked the mail every day for news of my enrollment in the program. Then one day, I came home from work and Daddy gave me a packet he'd gotten from the mail. Yes, it was from the nursing program, and yes, it had those lovely words of congratulations on the top! I was in. Now with nursing school only 2 weeks away, I am excited and ready to embark upon this long adventure for as long as the Lord sees fit. My plan is to graduate with my RN and transfer to a 4-year college to finish up my Bachelor of Science in Nursing. I have my eye on OB/GYN (particularly labor and delivery). So those are my plans for now, but as a godly older woman told me, everything happens according to plan, but perhaps not according OUR plans. :) I am praising God for this opportunity He has given me now and want to work hard and be committed to it while holding it with an open hand.
So. Without further ado, here are some pictures from the summer.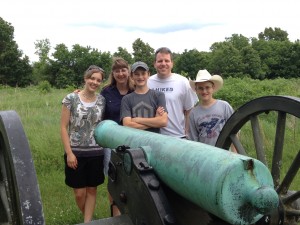 We had some dear friends of ours visit as they were driving through Missouri on their way to Florida. Here's a picture taken at Wilson's Creek.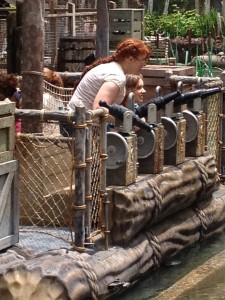 Fun at Silver Dollar City! Here my friend (and fellow waitress) and I are shooting water at the passing boats. Needless to say, we got drenched in the process. Haha.
My friend took this picture of me after a long day at work. I was laughing about something somebody said and I'd caption it, "let your hair down and laugh."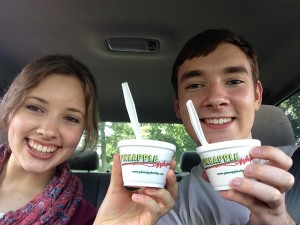 Wesley and I traveled to Iowa for a friend's wedding. It was a special and memorable weekend trip. We both enjoyed ourselves and it was a privilege to attend such a beautiful and God-honoring wedding.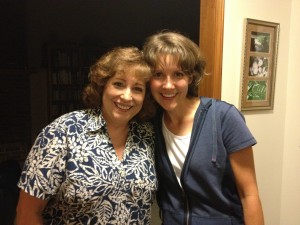 One of mom's aunts and her husband came for dinner as they were traveling though Missouri. It was a sweet evening of fellowship.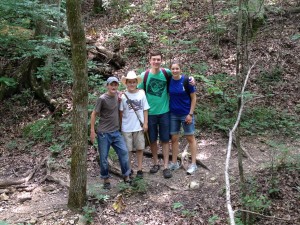 Hiking at a nearby park. We brought a picnic in our backpacks and enjoyed our traditional 4th of July picnic of rotisserie chicken, cherries, chicken in a biscuit, and brownies. (And a few carrot sticks to balance out the meal, of course). ;)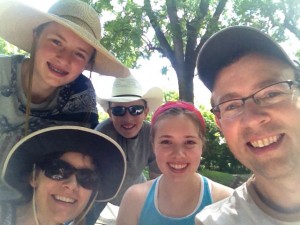 Kayaking on the James River for an epic day-trip!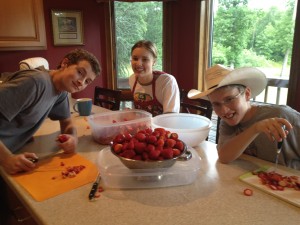 Cutting strawberries with the boys for freezing one fine morning.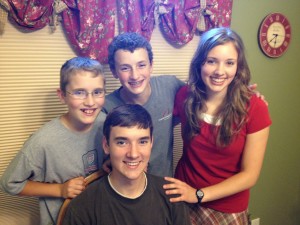 Celebrating Wesley's 20th birthday. Goodness, it's hard to believe that this guy is 20 already! Why do my brothers have to grow up so fast?
My cousin Anna came down for a visit. We had a lovely time biking our country roads, talking, watching chick flicks, cooking, and shopping together. Love this girl!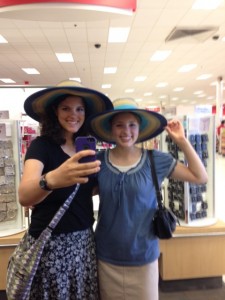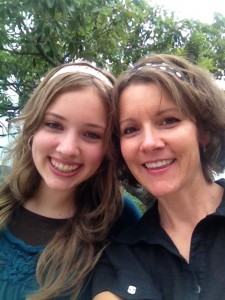 And here's a recent selfie of my Mumsie and me. I can't say how much of a blessing she is to me!
Well folks, that's all for now. Next time I hope to post about my experience at camp.
What have you been up to this summer?