Good morning, my friends!
It's a lovely morning today. The sun is shining brightly and it's cleaning morning (aka I get to stay in my pajamas, make up a cup of coffee, whiz about the house tidying, vacuuming, etc., listen to my favorite music, and all-in-all, feel just a bit like Mary Poppins cleaning up the nursery). :)
A while back I found a link to the television baking demonstration I did when I was 14 years old. It made me laugh. Note my little blurb about how I love Fleischmann's yeast and use it in ALL my baking, ha! My goodness. That was a memorable experience.
Quick funny story for you. The other day I was wearing a long, flowing skirt to an event. It was drizzling a bit outside, so I ran out to my car, quickly hopped in, and drove away. About 5 minutes later, while driving on the interstate, I heard a wet flapping sound on the side of my car. Then it stopped. Then it flapped again. It seemed to be following me! What on earth could make that sound? Then I looked down at my lap and followed my long skirt to my ankles. Bursting into laughter, I realized that I had trapped about a third of my skirt outside my car. Picturing what it looked like to my fellow travelers, I laughed even harder. Yup. At least I can say I live up to that blonde hair of mine.
Here's a little kitchen tip I wanted to share with you: I have been wanting to get more greens in my diet and this is a quick, easy, and delicious way to do just that.
Get a bag of greens (I like spinach and kale). Put them in a blender: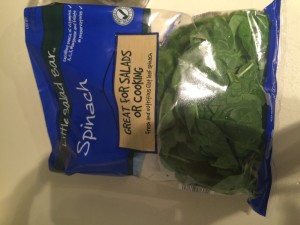 Don't be afraid to pack it in there. :)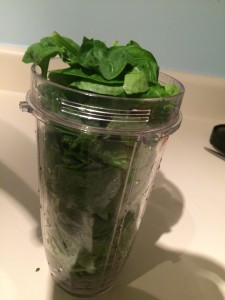 Fill almost to the top with water.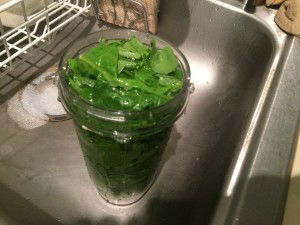 Blend for about 10 seconds or until liquid-y. I know, it looks kinda gross. It'll all turn out okay. Just trust me.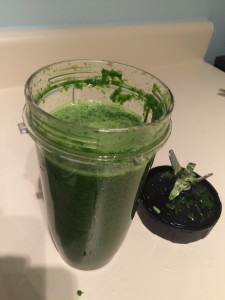 Pour into an ice cube tray.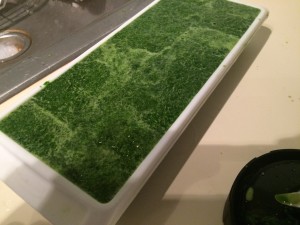 Freeze, then use a bit of warm water to pop it of the cube mold. Break apart into cubes and store in a freezer bag. I use 4 cubes for my shakes. I have tried using whole spinach before, but got icky spinach chunks in my shake, so I definitely prefer the cubes. Here's my shake recipe. It's a beautiful green color, simple to make, and very refreshing.
4 green cubes
1/2 banana, fresh or frozen
1/4 – 1/2 cup orange/pineapple juice
1/2 cup plain greek yogurt
Enough water to fill to the top (depending on how thick you like your shakes).
Put all ingredients and whiz until smooth. Enjoy!