As I mentioned in the August Blessings post, I am *teaching* my younger brothers geography this semester, but I have actually learned a lot from it as well! So a few days ago, we tried foreign cooking, and made some dishes from the countries we've been studying about.
It turned out to be a success! We made Challah (a Jewish bread), Moroccan tea again, and Lo Mein – a Chinese noodle dish.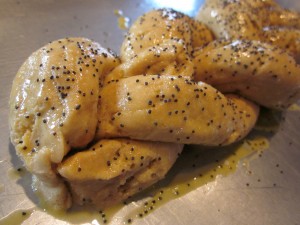 Challah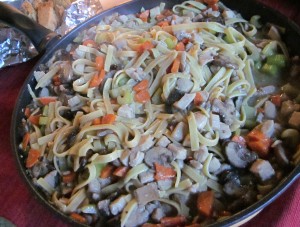 Lo Mein
The tea was yummy, and the Challah, although new and interesting, was not our favorite, so we probably won't make it again. But the Lo Mein was delicious! In fact, I'd like to post the recipe here in case you're looking for a new foreign dish to try. :)
I tweaked the recipe and made a larger amount of everything for our family, but here are the original measurements. You can simply increase or decrease the proportions to whatever your family will eat. It's pretty much an all-inclusive meal with vegetables, noodles, and meat, so be sure to make plenty!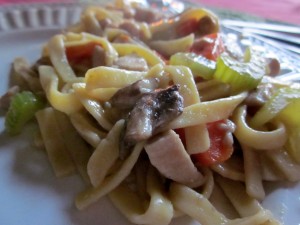 Lo Mein (Chinese noodles)
Ingredients:
2 Tablespoons soy sauce
1 garlic clove, minced
1 teaspoon cornstarch
1/2 pound chicken breasts, chopped into small pieces (I used more)
1 cup chicken broth
1 Tablespoon cornstarch
2 Tablespoons soy sauce
1 Tablespoon oil (I used olive)
1 large carrot, sliced
3 sticks celery, chopped
4 oz mushrooms, sliced
8 oz thin egg noodles, cooked and drained
Mix together 2 Tablespoons soy sauce, the garlic, and 1 teaspoon cornstarch. Add the chicken and marinate in refrigerator for at least twenty minutes.
Whisk together the chicken broth, 1 Tablespoon cornstarch, and 2 Tablespoons soy sauce. Set aside.
Heat the oil in a large pan on high. Add the chicken and carrots; stir fry for two minutes. Add the celery and mushrooms, and cook until the chicken is done, about 5 to 10 minutes, depending on the amount and size of the pieces.
Stir chicken broth mixture into chicken; add the noodles, and cook for 5 minutes, or until the sauce is thickened. Serve!