This past weekend, Mom and I attended a retreat in Kansas City with five other ladies from our church. It was such a wonderful time!
I was encouraged and blessed by the speaking and fellowship . We all drove to Kansas City together in one car, so it was cozy! :) I enjoyed the trip and got to know the ladies better.
We first went to our hotel and checked in, and enjoyed a nice "potluck" dinner together. I managed to get a picture of us all on one of the beds using the self-timer. (Does that sound familiar, Hannah and Amanda?)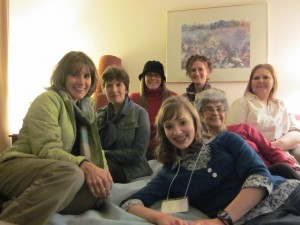 We then went to the church where the retreat was held. The speaker was Dee Brestin. She is a godly woman who has walked with the Lord faithfully, and has encouraged many women in their faith. She has also written several books for women.
One of the things that stood out to me the most that night was a painting that she shared with us. Wesley helped me put it on my blog! :)
Please watch this short clip, and you will be amazed by the power of God!   I am blown away when I see this painting – an incredible depiction of  Revelation 5:5-6a:
"Then one of the elders said to me, 'Do not weep! See, the Lion of the tribe of Judah, the Root of David, has triumphed. He is able to open the scroll and its seven seals.' Then I saw a Lamb, looking as if it had been slain, standing at the center of the throne, encircled by the four living creatures and the elders."
Mrs. Brestin said that there are times when God doesn't seem safe, but if He loved us enough to send His only Son to the cross, we can trust in Him. Even when God brings suffering in our lives, we can still know that His heart is for us.
The next morning, we enjoyed a nice breakfast at the hotel, and then packed up and drove to the conference. The church where it was held is beautiful! I took a few pictures of it: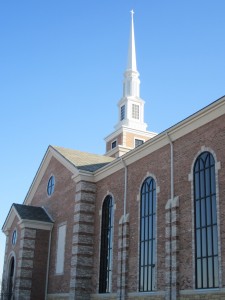 This is definitely one of the most beautiful churches I've ever been in!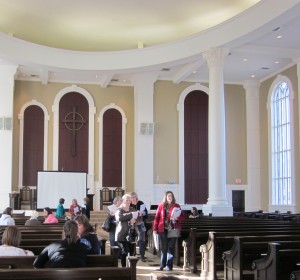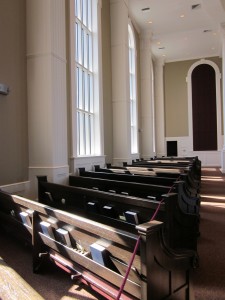 Mrs. Brestin's talk the second day was encouraging as well. Here are a few of my notes:
– Having an identity in anything other than Christ is like building your foundations on sand.
– We can be subtle in idolatry. It's often manifested in relationships. When we put our security in relationships, we are often in trouble.
– After dealing with an idol in our lives, we must continue to fight it. I love how Mrs. Brestin summed this up by saying, "idols have a frightening capacity to regenerate."
– When we undergo suffering, it will help us to be more compassionate and understanding to others when they face the same struggles, and it removes the idols of our hearts. God uses all things, including suffering, for good in our lives. Sometimes we do not see our own ugliness, and we must be humbled.
– Every other religion throws you a manual – a list of things that you must do to be saved. Christianity is the only religion which sends a Savior. We, left to ourselves, can do nothing. Thus, we can say in humility, "to God be all the glory!"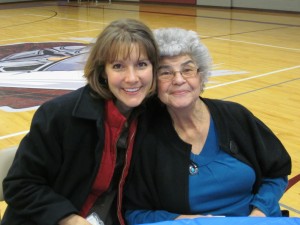 Mom and Mrs. Vigil, a very sweet lady from our church.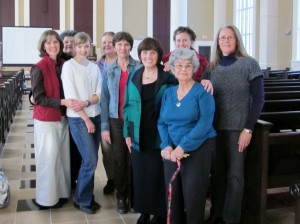 Here's a picture of all the ladies from our church with Mrs. Brestin.
I feel so blessed to be a part of this group. I was encouraged to have such sweet fellowship with these dear ladies. It made me appreciate even more the Lord's grace in my life. As I came away from this retreat, I am blessed by the reminder that His mercies are indeed new every morning, and great is His faithfulness!